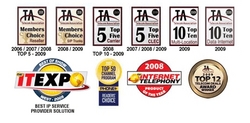 We will continue to innovate in the IP space and offer the most aggressively priced voice and data products in the industry.
Los Angeles (PRWEB) September 21, 2009
ITEXPO - AireSpring announced today that its SIP Trunking products have received the "Best of Show Award" as the top IP service provider solution at Technology Marketing Corporation's (TMC®) ITEXPO West 2009 in Los Angeles.
AireSpring offers an award winning suite of local and long distance calling services at leading rates on its next generation IP network. Any customer, whether they have IP enabled equipment or traditional phone systems, can achieve the support, flexibility, and reliability benefits of AireSpring's next generation services today.
"AireSpring is honored to be recognized by TMC, a leading voice in IP communications, for our advances in VoIP and SIP Trunking. IP is the future of the telecom industry and it is gratifying to be recognized as a premier provider in VoIP and SIP technologies," stated Daniel Lonstein, AireSpring COO. "We will continue to innovate in the IP space and offer the most aggressively priced voice and data products in the industry. "
"Our judging panel felt as though this year's field was the deepest we've ever seen for the Best of Show Awards, and we congratulate AireSpring for standing out in the category," said Rich Tehrani, CEO and group editor-in-chief of TMC. The industry's largest collection of service providers, enterprise buyers, developers, and resellers come to ITEXPO, to see innovative solutions from companies like AireSpring."
The ITEXPO Best of Show Awards recognize innovative products and solutions that were featured in the Exhibit Hall during the event. This designation serves to highlight the technological achievement and creative product features that set these winners apart from the rest of the crowd. INTERNET TELEPHONY magazine editorial staff evaluated the pre-show nominations, and met with vendors to inspect and review the displayed products on the first day of the Expo. A full list of the winners is posted on TMC's Web site at http://www.tmcnet.com.
AireSpring's Voice, Data, and Integrated products are continually recognized by customers and agents as robust, flexible, and affordable. Over the past several years, AireSpring has been awarded Top Reseller, Top Channel Program, Top SIP Trunking Provider, Product of the Year, and Best in Show by various magazines and organizations. AireSpring currently offers lowest cost High Speed Internet, Voice, and SIP Trunking services as well as innovative hybrid products which deliver many of the advantages of SIP to customers with legacy TDM equipment. AireSpring continues to innovate and expand the reach and features of products offered through its groundbreaking enhanced IP network.
Telecom Agents, Resellers, Consultants, and customers looking for more information about AireSpring's products and/or partner programs should visit http://www.airespring.com.
About AireSpring
Headquartered in Los Angeles, award winning AireSpring is one of the fastest growing telecommunications carriers in the USA, with over 4 billion call records processed every year. AireSpring is a privately held, diversified, debt-free, and full service communications company which offers a broad range of innovative telecommunications services at competitive rates.
AireSpring offers next-generation voice, data, integrated, SIP/VoIP, and conferencing products designed to deliver power and flexibility at cost-effective rates. AireSpring has been named, "Product of the Year," "Best Telecom Deal," "Members Choice top reseller," "Best In Show," and "Top Channel Program." To find product information, rates, or become an agent or reseller, please visit http://www.AireSpring.com or contact Todd Regan at (818) 786-8990, ext 374.
About TMC:
Technology Marketing Corporation (TMC) is an integrated global media company helping clients build communities in print, in person and online. TMC publishes Customer Interaction Solutions, INTERNET TELEPHONY, Unified Communications, and NGN magazines. TMC is also the first publisher to test new products in its own on-site laboratories, TMC Labs. TMCnet, TMC's Web site, is the leading source of news and articles for the communications and technology industries. TMCnet is read by two to three million unique visitors each month worldwide, according to Webtrends. For more information about TMC, visit http://www.tmcnet.com.
For more information about TMC, visit http://www.tmcnet.com
###