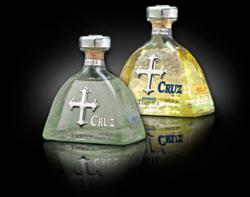 "Taking on new initiatives, while proactively covering 10's of 1,000's of global sales with top retail and on-premise accounts, has paved the way for our partnerships with key Distributors."
Scottsdale, AZ (PRWEB) January 31, 2012
CRUZ del Sol Tequila (CRUZ Tequila), the award-winning brand of Los Diablos International, reports stronger than expected holiday revenue in 2011, forecasts a record breaking 1st quarter in 2012, and answers the question: Can popular holidays share common trends?
"Absolutely," remarks Pep Katcher, President of CRUZ Tequila. "Although, Cinco de Mayo is a very busy holiday for us, early indicators suggest that February 2012 will be our biggest month, since we launched our first award-winning Tequila in 2008. From a national view, our news validates Bill Saporito's recent article for TIME magazine. In 'Higher Spirits', Mr. Saporito's reveals his investigative reporting in New York City along with trends from Nielsen* that indicate spirit sales increased 4.3% nationally and in a flat economy. Further, the reporting also puts the percentage in perspective, given the fact that in the $60 billion alcoholic-beverage industry, each market-share point is worth about $600 million at wholesale."
What other factors will help break February records for CRUZ Tequila? "Hard work and increased focus from our distribution partners (Young's Market Company and Republic National Distribution Company), our growing presence in retail chains, and tremendous consumer response in our local markets power a significant 2012 forecast," adds Todd Nelson, Vice President of Marketing for CRUZ Tequila. "From the beginning we knew our Tequila had promise and that was really exciting. Fast forward to 2012: bigger partnership opportunities; North American expansion; extended industry recognition; together with a refusal to compromise on quality. Factors, that have built another level of excitement – as we had envisioned seven years ago."
How do business forecasts, translate to sales? "Preparation for expansion and working towards bold goals that include delivering year-over-year growth, have been keys to our group's success," offers Saulo Katcher, Vice President, of Operations, for CRUZ Tequila. "We also think that taking on new initiatives, while proactively covering 10's of 1,000's of global sales with top retail and on-premise accounts, has paved the way for our partnerships with key Distributors."
What does a snapshot of success look like? "We are fortunate to have over 1,100 placements in Arizona today," states Todd Ellinwood, CRUZ Tequila Arizona Market Manager. "As we prepare for Valentine's Day, Cinco de Mayo, and other major holidays, it is clear that our product's reach will grow across the state as our partnership with Young's Market Company expands."
About CRUZ Tequila
CRUZ del Sol Tequila is the award-winning brand of Los Diablos International which is headquartered in Scottsdale, Arizona. The recognized principals of the company have a combined 60+ years of global business experience that is focused on redefining the ultra-premium tequila market. Recently, the 'Best of the Best Highland Blanco' was added on top of 12 other industry awards captured by CRUZ Tequila. This complements their gold medal from the San Francisco World Spirit Competition, national product packaging recognition, mobile marketing award, and New Times Best Tequila of 2011 title. Further, Cruz Tequila has been showcased in 'Kingdom' for the iPhone; featured on FOX Business News, and Fox 10 for a 2nd time; joined the teams at ABC 15; introduced their spirits to Dave Pratt at X103.9 radio; stopped in at 98 KUPD's morning show; and thoroughly enjoyed their NPR interview. In addition, they have appeared in Austin 360, BizAZ, Business Gazette, Food & Flourish, JAVA, Jeunes Restaurateurs d'Europe, Phoenix Business Journal, Phoenix Magazine, The Republic newspapers, State Press, Wine & Spirits Daily, Scottsdale Magazine, and USA Today along with other leading industry publications. As an extension of their pay it forward philosophy, CRUZ continues to takes an active role in contributing to quality, non-profit organizations and donated to more than 35 charitable organizations across the nation in 2009, 2010, & 2011. As part of their commitment to give back to their community, CRUZ was honored to be a part of the Emerging Business Program for the Super Bowl host committee in Arizona. Globally, the company proudly donates 7% of its profits to various national and international charities and strongly supports sustainability by using only eco-friendly recycled materials in its product packaging.
To learn more about CRUZ Tequila international reach, classic drink recipes, and their quest to redefine the ultra-premium tequila market with innovative spirits, please visit their website: http://www.cruztequila.com
*References Nielsen 52-week period ending Nov 12
CONTACT INFORMATION:
Todd Nelson, Vice President
CRUZ Tequila
V: 480.458.7487
Website: http://www.cruztequila.com
Kelly Isley, Partner
Corcoran Associates
Business Advisors & Public Relations
V: 480.814.7471
Website: http://www.corcoranassoc.biz
# # #