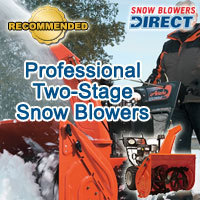 With larger engines and wider housings to clear snow, professional two-stage snow throwers are designed to handle the most severe snow conditions
Bolingbrook, IL (Vocus) September 24, 2010
Today SnowBlowersDirect.com, a leading online snow thrower superstore, announced its recommendations for professional two-stage snow blowers.
"With larger engines and wider housings to clear snow, professional two-stage snow throwers are designed to handle the most severe snow conditions," said Jon Hoch, founder & CEO of Power Equipment Direct, one of the fastest growing e-commerce companies in the United States.
SnowBlowersDirect.com specializes exclusively in snow blowers and carries more than 70 models of snow throwers, as well as a full array of accessories, representing many of the leading brands in the industry.
The online superstore combined sales history, customer reviews and personal insight to generate their final recommendations.
Only three models of two-stage professional snow throwers were chosen to receive the prestigious "Recommended" status.
Top Professional Two-Stage Snow Throwers
Good: Toro Power Max® 1128OXE (28") 342cc Two-Stage Snow Blower - 38654
Better: Ariens Professional ST28DLE (28") 342cc Two-Stage Snow Blower - 926038
Best: Ariens Professional ST32DLE (32") 342cc Two-Stage Snow Blower - 926039
According to Hoch, these two-stage snow throwers can handle almost any snowfall on all types of surfaces, making them ideal for homeowners, small business and maintenance professionals who manage buildings and apartment complexes.
By providing the recommendations and reviews, SnowBlowersDirect.com hopes to arm shoppers with enough ammunition to pick the perfect professional two stage snow blower for their needs.
Power Equipment Direct operates nine niche online superstores. In addition to SnowBlowersDirect.com, the Bolingbrook, IL-based company operates AirCompressorsDirect.com, ElectricGeneratorsDirect.com, PressureWashersDirect.com, MowersDirect.com, WaterPumpsDirect.com, SumpPumpsDirect.com, ChainSawsDirect.com and LogSplittersDirect.com.
###