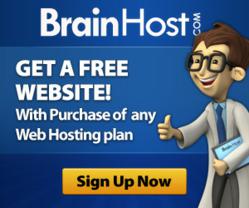 BrainHost is a great solution for those who need a professional looking website that is optimized for search
Salt Lake City, UT (PRWEB) September 24, 2012
BrainHost, known as one of the best web design and hosting companies, officially launches their "Already Done For You" website package and it's creating a lot of attention among new business owners. Not only do they get hosting, they get a professionally designed and optimized website.
Being one of the best web design and hosting companies, BrainHost reveals some interesting features inside this incredible all-in-one solution. For most people, one of the biggest challenges is creating a website for their business because they don't know where to start. All they know is that they want it to look good, function properly and convey the right message to their viewers.
All of this takes time and experience from a professional website builder. The challenge is that it can cost a ton of money right out the gate just to get a site professionally designed. Then on top of that, they have to spend more money to optimize the site for search engines.
Well, now there is a simple solution that is easier on the pocket book.
For those that may not know, hosting is one of those mandatory pieces to setting up a website. Every website has hosting and Brain Host is a phenomenal company for hosting. They've agreed to professionally build a fully customized website that is already optimized for search.
With a fully optimized website a business can be up and generating leads immediately. With the new recent updates, Google likes well designed and optimized websites. Having an optimized website gives one a greater chance to rank high on the search engines.
There are several elements that Google looks at like when ranking websites. Load time is a big one, text to code ratios, meta tags, and analytics are adjust a few of the things that can help a website move above any competition. That's what makes BrainHost stand out above a lot of the others. With their professional designers and programmers, they deliver some of the best web design and optimized sites.
BrainHost will create a professionally looking website complete with a unique look and feel specific to the site owners request. Instead of costing thousands, BrainHost does this for free to all those who set up an hosting account with them.
As with any hosting company up-time guarantee is crucial. When websites go down, vendors lose money. Therefore it's important to have a website company that supports a 99.99% up-time guarantee. Another must is support. Being able to call and talk to a live person is important when growing a business.
For those looking to create a new website should click here.
"BrainHost is a great solution for those who need a professional looking website that is optimized for search. Their service is top notch and they have some of the best web designers who know how to make a site look good," say Jared Randall of eCashUniversity.
Those looking for the best web design and hosting company should visit http://www.BrainHost.com