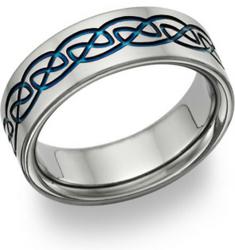 (PRWEB) October 16, 2011
Apples of Gold, industry leader in online jewelry sales, has selected its best wedding bands based on customer sales and released the big list: The Apples of Gold Top 100 Wedding Bands. Hoping to help customers narrow the vast scope of options in wedding jewelry, the Top 100 list highlights current trends and long-time favorites.
While searching for a wedding band prefaces wonderful things to come, the actual hunt can be nothing short of a chore. Couples waffle back and forth between metals and carats and settings and designs, with the constant question: Will I still love this ring in forty years?
Understanding that wading through the thousands of wedding bands on the market is no small task, and no insignificant one either, the company has released their Top 100 Bands list. The list, quite simply, is based on what their customers love. Just like the NY Times bestseller list helps determine what we read, the Top 100 Bands list helps couples begin to imagine what qualities they desire in their wedding rings. Complete with high resolution photos and detailed product pages, brides and grooms can choose one of the favorite rings for their very own, or use the list to gather ideas and narrow the search. The goal is to improve the online shopping experience and to make wedding jewelry accessible and understandable—even fun.
Topping the list is the Blue Titanium Celtic Wedding Band. This ring, known for its durability and affordability consistently assumes the number one rank among Apples of Gold sales. While the trends show that men want a ring that is a good value and resistant to wear-and-tear, the prominent place of this ring in the lineup reveals the fact that men also like a touch of adornment, such as the engraved Celtic pattern. The number-five seller, a paisley design, upholds that trend.
While the list shows that women clearly prefer white gold above any other precious metal for their wedding bands, men displayed a bit more variety in their selections. As mentioned, titanium is a favorite, but gold, the traditionally preferred metal, still stands strong. But now, instead of the more common yellow gold, men are choosing white gold, rose gold, as well as two-tone and tri-color bands.
The Apples of Gold Top 100 Bands list helps customers find the most beautiful bands at the best values, upholding the Apples of Gold commitment to delighting their customers with jewelry that is both extraordinary and affordable. Founded in 1999, the company set out to develop a jewelry business that would not only do well, but would do good. Ethical, value-based pricing practices were the foundation. The Apples of Gold commitment to quality in their products and the highest standards for customer service and consumer satisfaction come naturally. In the fine jewelry industry, Apples of Gold is a diamond in the rough.
Contact:
Apples of Gold
Afshin Yaghtin
606 South Hill Street, Suite 717 Los Angeles, Ca 90014
Email: marketing(at)applesofgold(dot)com
http://www.applesofgold.com
# # #