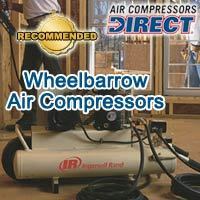 Wheelbarrow air compressors are the perfect choice for contractors, carpenters and other trade workers
Bolingbrook, IL (Vocus) October 19, 2010
Today AirCompressorsDirect.com announced its recommendations for top wheelbarrow air compressors.
"Wheelbarrow air compressors are the perfect choice for contractors, carpenters and other trade workers," said Jon Hoch, founder and CEO of AirCompressorsDirect.com. "Being on wheels, you can easily pull them around the job-site, plus you can choose an electric or gas-powered model depending on where you'll be using it."
According to Hoch, most retailers are loyal to whatever wheel barrow compressors are on their shelves.
However, AirCompressorsDirect.com, isn't your ordinary retailer. The online superstore specializes exclusively in air compressors and carries more than 400 models of compressors from many of the leading national brands.
The online retailer combined retail prices, recent sales history, customer reviews and personal insight to generate their final recommendations.
Once the dust and data settled, only 3 wheelbarrow air compressors sold by AirCompressorsDirect.com were given its prestigious "Recommended" status.
Top Wheelbarrow Air Compressors
Good: Vox Industrial 8-Gallon Wheelbarrow Air Compressor w/ Honda Engine - 74011
Better: Ingersoll Rand 8-Gallon Wheelbarrow Air Compressor w/ Electric Motor - SS3J2-WB
Best: HULK 10-Gallon 6.5HP Wheelbarrow Air Compressor w/ Honda Engine - HGPS0610WL
In addition, Hoch personally wrote online reviews for each wheelbarrow air compressor, explaining why the company recommended it.
By providing the recommendations and reviews, AirCompressorsDirect.com hopes to arm shoppers with enough ammunition to pick the perfect wheelbarrow compressor for their needs.
Power Equipment Direct operates nine niche online superstores. In addition to AirCompressorsDirect.com, the Bolingbrook, IL-based company operates ElectricGeneratorsDirect.com, PressureWashersDirect.com, SnowBlowersDirect.com, MowersDirect.com, WaterPumpsDirect.com, SumpPumpsDirect.com, ChainSawsDirect.com and LogSplittersDirect.com.
# # #