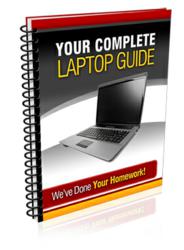 Here's a quick video listing some of the Top 3D Gaming Laptops on the market.
(PRWEB) November 01, 2011
A new video entitled "Top 3D Gaming Laptops Worth Considering" has just been released by 3D-GamingLaptops.com, a helpful online buyer's guide to 3d gaming notebooks. This new video examines some of the latest 3D gaming machines to hit the market in recent months and is well worth viewing if you're planning on buying a gaming rig.
The criteria for choosing these specific gaming laptops was based on customer feedback, online reviews and the features/specs available for the price one has to pay. In other words, whether or not the buyer is getting great value for their money.
"Many of the big manufacturers are now adding the 3D option to many of their popular gaming laptops, but everyone has to remember that these powerful high performance machines can still operate in 2D or as a normal gaming laptop," says Titus Hoskins, a former teacher who now operates 3D-GamingLaptops.com. "So even if 3D is not your cup of tea, don't dismiss these rigs just because they have the 3D option."
Some of the models included in the new video are: Alienware M17x R3, Toshiba Qosmio X775-3DV78, Asus G73SW-3DE and the HP Envy 17 3D. Many of these brands are well known in the gaming world and these rigs offer the consumer a well-balanced selection that should cover everyone's requirements and price range. Although for a fully maxed out system, gamers will still have to pay a hefty price for all those extra features or upgrades.
While 3D hasn't exactly conquered the home entertainment market, it is now being offered as an option on many TVs, Blu-ray DVD Players and Gaming Devices. We have even seen the introduction of some glasses-free products and laptops. In addition, Nvidia has confirmed its commitment to 3D, by releasing an upgrade to its popular 3D Vision Kit, which can be found in many PCs and laptops. This new 3D kit offers bigger and brighter images and is backwards compatible.
This new video on the top 3D gaming laptops will give potential buyers a quick overview of the different notebooks - along with the features, specs and tentative prices. It was created to give these buyers a good solid starting point in their search for the perfect 3D gaming laptop.
The video can be viewed here: http://www.youtube.com/user/laptopguide
About Us - 3D-GamingLaptops.com is a handy online 3D Laptop Guide which is run in partnership with http://www.bizwaremagic.com, a popular site which covers all aspects of running a business, from marketing tools to corporate gifts to computer notebooks. This video was created by Curtis Hoskins, who runs http://www.bluray-dvd-players.com, a comprehensive site on Blu-ray players and devices.
###