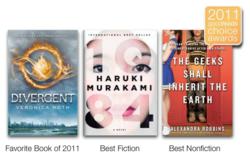 Decided by voting open to the 6.4 million members of Goodreads, the Goodreads Choice Awards are the only major book awards chosen by readers.
Santa Monica, CA (PRWEB) December 06, 2011
In a result that reinforces the crossover power of Young Adult titles, "Divergent," the debut novel by Veronica Roth, won Favorite Book of 2011 in this year's Goodreads Choice Awards.
The critically-acclaimed "1Q84" by Haruki Murakami, a 900-page masterpiece of mystical realism won Best Fiction of 2011. Definitely not in the "loser" category is the winner of Best Non-Fiction - "The Geeks Shall Inherit the Earth" by Alexandra Robbins which demonstrates how outcasts thrive after high school.
Decided by voting open to the 6.4 million members of Goodreads, the Goodreads Choice Awards are the only major book awards chosen by readers. Goodreads is the world's largest site for readers and book recommendations.
The Goodreads Choice Awards represent the best books of 2011 and provide great holiday gift suggestions. To see the 20 nominees in each of the 22 categories in this year's Goodreads Choice Awards, visit http://www.goodreads.com/award/choice/2011.
"In winning Favorite Book of 2011, Veronica Roth joins the ranks of YA authors like Suzanne Collins and Stephanie Meyer who have successfully attracted readers across all age groups," said Jessica Donaghy, features editor of Goodreads. "Fifty percent of Goodreads members who read 'Divergent' were 25 and older."
Here is the list of the other titles – both for adults and children - that won the hearts and minds of Goodreads members this year:

Beating out books from Rob Lowe, Jaycee Dugard and Dick Van Dyke, Best Memoir & Autobiography of 2011 went to "Two Kisses For Maddy" in which Matthew Logelin tells the heart-breaking story of raising his daughter alone after his wife, Liz, died of a pulmonary embolism just 27 hours after giving birth to their only child.
In the most closely contested category, only seven votes (out of more than 40,000 votes cast in this category) separated the winner of Best Paranormal Fantasy of 2011, "Shadowfever" by Karen Marie Moning and the runner-up, "A Discovery of Witches" by Deborah Harkness.
Taking the crown of Best Travel & Outdoors of 2011, "Little Princes" by Conor Grennan is no ordinary travelogue. Volunteering for three months at the Little Princes orphanage in Nepal, Grennan discovers that the children are not orphans but are victims of child trafficking. And so begins his journey to reunite the children with their families.
Best Historical Fiction of 2011 went to Paula McLain's "The Paris Wife" about the iconic American writer, Ernest Hemingway, and his first wife, Hadley and their life in Paris in the glittering 1920s.
Best Fantasy of 2011 was another close finish with "A Dance with Dragons" by best-selling author George R.R. Martin beating debut novel "The Night Circus" by newcomer Erin Morgenstern by just 15 votes.
Tina Fey's popular "Bossypants" secured top spot in Best Humor of 2011, despite strong competition from the runner-up, the controversial picture book "Go the F**k to Sleep."
In Best Romance of 2011, "Lover Unleashed," the ninth book in the popular Black Dagger Brotherhood series by J.R. Ward took top honors.
"Smokin' Seventeen" by Janet Evanovich and the 17th in the Stephanie Plum series won Best Mystery & Thriller of 2011.
In Best Horror of 2011, "Graveminder" took top honors for Melissa Marr with her first adult novel after her successful Wicked Lovely YA series.
In Best Science Fiction of 2011, Stephen King, better known for his horror novels, won the most votes for "11/22/63," a what-if time travel story about a man who finds a portal back to 1958 and tries to prevent the assassination of President Kennedy.
"Steve Jobs" by Walter Isaacson took top honors in Best History & Biography of 2011, a decisive win over runners-up Erik Larson's "In the Garden of Beasts" and Robert K. Massie's "Catherine the Great".
Building on the success of her popular YA series, Richelle Mead's "Vampire Academy: The Graphic Novel" with illustrations by Emma Vieceli and adaptation by Leigh Dragoon won Best Graphic Novel of 2011, beating out "Twilight: The Graphic Novel, Vol 2."
Gwyneth Paltrow can now add a different award to her collection of acting awards: award-winning author. Her cookbook, "My Father's Daughter," a collection of favorite family recipes and stories of growing up with her father, Bruce Paltrow, won Best Food & Cooking of 2011.
In Best Poetry of 2011, former Poet Laureate of the United States, Billy Collins won the most votes with his collection "Horoscopes for the Dead."
The award for Best Young Adult Fiction of 2011 goes to "Where She Went" by Gayle Forman, the second in the "If I Stay" series.
Veronica Roth's "Divergent" takes a double honor by also winning Best Young Adult Fantasy & Science Fiction of 2011, emphasizing the trend that science fiction stories with powerful heroines are overtaking paranormal fantasy in teen literature.
The prolific and popular children's author, Rick Riordan managed the feat of taking both the winner and runner-up spots in Best Middle Grade & Children's of 2011. The winner was "The Son of Neptune," the second book in his Heroes of Olympus series and the runner-up was "The Throne of Fire," the second book in the Kane Chronicles.
And our third celebrity author winner this year is Al Yankovic for his first picture book, "When I Grow Up" which won Best Picture Book of 2011.
The final award is not for a book but for an author. Members were invited to vote for their favorite author of a book published in 2011 who is also one of the 30,000 authors who have joined Goodreads. The winner of Best Goodreads Author of 2011 is Cassandra Clare, author of "City of Fallen Angels," the fourth in the Mortal Instruments series. She has built up a strong fan base through interaction with readers on the site, including Q&As for her books.
About Goodreads
Goodreads is the world's largest site for readers and book recommendations. Founded in 2006, Goodreads is where readers discover and share books they love. Goodreads has 6.4 million members who have added more than 200 million books to their shelves and written more than 13 million reviews. Loved by avid and casual readers alike, Goodreads members can discover new books by seeing what their friends are reading or by using the Goodreads Book Recommendation Engine; share ratings and recommendations; track what they have read and list what they want to read. Goodreads is also a place where more than 30,000 authors and their publishers connect with readers. Goodreads is a privately owned company.
###