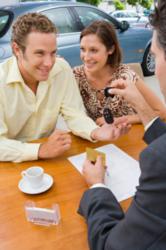 "Don't set your site on a specific model, look for factory-promoted lease offers and compare the details with those offered by other car manufacturers in order to get the best deal out there."
Torrance, CA (PRWEB) July 21, 2011
autoMedia.com, a consumer-friendly automotive website, recently revealed some of the best car leasing deals of the summer. As the weather heats up so do the deals manufacturers are putting in place to lure new car buyers into the showroom.
With a growing number of consumers today choosing low-payment lease options over vehicle ownership, auto leasing is on the rise and car companies are responding with an arsenal of attractive deals to tempt potential new car buyers.
autoMedia.com found some of the best car leasing deals around to jump start summer, from all brands—domestic and import—to deals from $0 down, $0 first month's payment and $0 security deposit on certain models to College Graduate rebates of $1,000 on any new car lease.
Marshall Flemion, president autoMedia.com, offers a bit of advice, "Don't set your site on a specific model, look for factory-promoted lease offers and compare the details with those offered by other car manufacturers in order to get the best deal out there."
Consumers may still be wondering, "why lease a car?" Keeping the monthly payment low is the foremost incentive. But buyers beware: If drivers rack up a lot of miles during the year, leasing may not be the right choice. Read the fine print, some leases are limited to 10,000 miles per year, which is about 28 miles a day.
autoMedia.com was launched in September 2000 by a team of automotive editorial, design, and publishing professionals with the goal to be the premier provider of quality automotive content on and for the Web. Today it boasts over 92,500 pages of original articles, including over 2,500 features researched and written by leading automotive experts, covering new and used car buying, new vehicle previews, road test reviews, car care maintenance, professional driving advice, and technology. Automotive enthusiasts and new car shoppers can read about the latest industry news, pricing, rebates and incentives, view photo galleries and research details on all makes and models. Automotive advice you can trust.
###