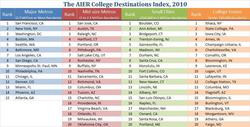 Deciding what school to attend should involve more than what the school itself has to offer. Where to attend college is just as important...
Great Barrington, MA (Vocus) September 8, 2010
The American Institute for Economic Research (AIER) has released its annual "College Destinations Index" (CDI), a quantitative ranking of the 75 best towns and cities to live in if you're a college student. The locations were chosen from an analysis of the 222 metropolitan statistical areas (MSAs) with student populations of 15,000 or more.
The institute simultaneously released the first edition of a new companion guide -- "2010-2011 College Destinations" -- a four-color booklet that ranks all 222 MSAs, profiling the top 40 locations -- ten in each of four population categories -- and what they have to offer.
The College Destinations Index goes beyond standard college and university rankings, which typically focus on the schools themselves, including cost, academics and athletic programs. Instead, the CDI analyzes the areas in which the schools are located, including the overall academic environment, quality of life, such as cost of living and arts and leisure activities, and professional opportunities.
"Deciding what school to attend should involve more than what the school itself has to offer," says Keming Liang, AIER's lead researcher on the project. "Where to attend college is just as important, because like the colleges themselves, the towns and cities in which they are located vary widely in the opportunities they offer students and recent graduates."
The attached chart -- grouped by total residential populations -- reveals the top 75 locations.
These cities topped the charts in their respective population categories based on an analysis of 12 criteria, listed below:

Student Concentration: number of college students per 1,000 residents
Student Diversity: percentage of all students holding foreign passports
Research Capacity: academic R&D expenditures per capita
Degree Attainment: percent of the 25-34 year old population with college degrees
Cost of Living: based upon average rent for a 2-bedroom apartment
Arts and Leisure: number of cultural and entertainment venues per 100,000 residents
City Accessibility: percentage of workers over age 16 who commute on foot or by public transportation or bicycle
Creative Class: percentage of residents working in the arts, education, knowledge industries, science and engineering, management and other fields
Earning Potential: income per capita
Entrepreneurial Activity: net annual increase in total number of business establishments per 100,000 residents
Brain Gain/Drain: year-over-year ratio of college-educated population living in the area
Unemployment rate
"Unlike other rankings, the College Destinations Index analysis does not depend on reporting from individual schools, which understandably would like to paint the best picture possible of themselves and their environments," said Marla Brill, primary reporter on the CDI companion volume. "Rather, the CDI looks at broader regional information supplied by neutral third parties such as the Census Bureau, the Bureau of Labor Statistics and the National Science Foundation. The result is an independent, unbiased appraisal."
About "2010-2011 College Destinations":
In addition to ranking all 222 MSAs in their respective population categories, "2010-2011 College Destinations" profiles the top ten cities in each category. Each profile includes a student-specific guide to the city, area college listings, and city photographs. (A sample book page is available here.)
Also included is a "By the Numbers" overview of each of the 40 cities. Each city is ranked one to 10 according to each of the 12 criteria in its population category, with one being the top ranking. This allows readers to quickly see how one city compares to another in specific areas of interest. (A sample chart is available here.)
"The College Destinations Index and the '2010-2011 College Destinations' companion guide provide essential information for students, parents and guidance counselors involved in the college selection and application process," said Charles Murray, AIER's President.
"The amenities that create great college communities also make these destinations great places to visit, live, retire or locate a business," Murray added, "so the CDI and companion guide can be useful tools for local business and civic organizations, convention and visitors bureaus and real estate agents, as well as college recruiters and admissions offices."
Copies of both the College Destinations Index (free) and the companion guide ($10, including a copy of the CDI) are available from AIER's online bookstore or by calling (888) 528-1216. Copies are available to journalists at no cost by contacting Jennifer Berkowitz at Jennifer(at)PRoactiveSolutionsInc(dot)net or (828) 687-2633.
The American Institute for Economic Research (AIER), headquartered in Great Barrington, Mass., is a 77-year-old nonprofit educational organization.
AIER became publisher of the College Destinations Index in 2008, taking over from Collegia, a regional planning organization in Wellesley, Mass., which had published the index since 2003. This is the first year AIER has published the "2010-2011 College Destinations" companion guide.
###