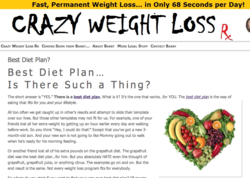 As an author, it was refreshing to realize that we'll have an excellent idea of the impact of my book because of the innovative system developed by the Christopher Oliver Agency.
Dallas, TX (PRWEB) May 10, 2013
The Christopher Oliver Agency, in a project for the publisher Advantalo Resources, Inc., has developed a proprietary system for tracking the impact of a newly-revised and controversial weight loss book. The newly created system developed by Christopher Oliver provides advanced metrics on the impact and reach of the re-release of the book "Crazy Weight Loss Rx" by author Barry Burroughs. The book claims to provide a technique for quickly re-patterning and creating new neural pathways in the brain. Targeted at a very competitive marketplace of people searching for the best diet plan, the publisher needed a way to accurately track the impact and reach of the re-release.
"It is my job to determine the real issue and then define how to get the needed results. In this case, we were dealing with a controversial book in a very competitive marketplace, and we needed to get some accurate figures about the marketing efforts. The proprietary system I developed draws information from several different sources. We can then extrapolate the full impact and reach of the book from this information. It's powerful and very accurate," says Christopher Oliver, Dallas web design specialist.
The book itself is intended to provide individuals with unique, lesser-known tips and strategies on how to lose weight fast, and seems to provide a new slant on the so-called "Law of Attraction." Author and perpetual traveler Barry Burroughs reveals a newly developed neuroscience brain re-patterning technique which he claims works in as little as 68 seconds per day. The recently revised book was originally published on August 8, 2012 and is available through Amazon.com.
When speaking about why he considers his book unique, Barry says, "The so-called 'Law of Attraction' has been misunderstood ever since Rhonda Byrne published 'The Secret' back in 2006. Some of the most powerful aspects of the Law of Attraction were deliberately left out of the book and the movie. Newly developed neuroscience techniques can be combined with these missing ingredients to provide excellent results for anyone who will apply the information. There are loads of books out there giving weight loss tips, and a new diet seems to come out every few days. Sadly, it's frequently same reworked information. I wanted to share a new technique based on proven science and the latest discoveries in brain activation. By combining these new ideas with the law of attraction, readers can reach their weight loss and health goals no matter what diet plan they choose or what fitness program they decide to follow."
"Crazy Weight Loss Rx" will be available as a free download in digital format from Amazon.com from May 10th through May 13th, 2013. For more information about the book, visit the website at CrazyWeightLossRx.com.
The Christopher Oliver Agency provides digital strategy services, web design, search engine optimization (SEO) and online marketing services in Dallas Texas. For more information about the Christopher Oliver Agency visit their website at christopheroliver.com.