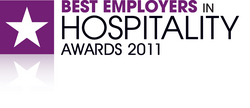 The deadline extension means that employers who have not yet entered have the chance to stand up and be counted.
(PRWEB) April 21, 2011
"The response to Best Employers in Hospitality 2011 England and Wales has been overwhelming." says Kathy Dyball, of Caterer.com. "So much so that we've had to look for a bigger venue than we first anticipated in order to accommodate everyone! We're delighted to have secured the beautiful Lancaster London for the ceremony, and now we have that space, it made sense to extend the deadline to allow other companies to enter."
The cut-off date for entries has been extended to 30th April, allowing employers to enter and complete as many of the employee engagement surveys as they can. These surveys determine their ranking in the awards and then provide a full engagement report for each employer.
Entry into the awards — run in partnership with employee engagement specialist, learnpurple — is free and simple. Employers enter online at http://www.bestemployersinhospitality.com and are emailed a survey link which they circulate to their employees for completion online. 30% of employees must complete the survey for the entry to qualify. The learnpurple survey ranks all entrants based on their responses, which is then used to create the Top 30 league table and highlights a winner for each of the award categories.
As Kathy explains, "The deadline extension means that employers who haven't yet entered get the chance to stand up and be counted – and those employers who have already entered can get as many employees completing the survey as possible. These awards are a fantastic, free opportunity for employers to gain an industry-wide accolade and also receive an invaluable employee engagement report after the awards, giving them a solid piece of evidence to benchmark against year on year".
Nick Gourley from Blue Arrow Catering and BLEND Permanent Recruitment Services, which is sponsoring the 'Best Group Contract Caterer Employer' award said:
"These awards allow employees — the people that matter — to shout about why the company they work for is one of the 'best'. These leading employers deserve to be recognised and rewarded as shining examples of companies who got their people strategy just right."
All hospitality businesses, large and small in England and Wales can enter the awards for free at http://www.bestemployersinhospitality.com.
The glittering awards and celebration dinner will take place on 21st June 2011 at the Lancaster London. There will be a separate awards evening for Scotland, which will see a return to the Prestonfield in Edinburgh in September, where the inaugural ceremony took place in 2010.
###