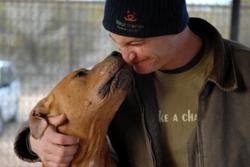 Fighting dogs should be evaluated like any other dog seized in a cruelty case
Ferndale, WA (Vocus) July 14, 2009
Dogs seized from fighting busts are victims, not villains, according to a nationally recognized expert on all issues connected with pit bulls and other pit bull-type dogs.
Ledy VanKavage of Best Friends Animal Society says last week's multi-state crackdown on dog fighting shows how important it is for meaningful reform in the way that states deal with dogs rescued from horrific conditions in dog fighting operations.
"Fighting dogs should be evaluated like any other dog seized in a cruelty case," says VanKavage, senior legislative analyst for Best Friends Animal Society. VanKavage is a nationally recognized expert on all issues connected with pit bulls and other pit bull-type dogs.
More than 450 dogs, primarily pit bulls, were rescued last week in at least six states in what was described as the largest crackdown on dog fighting in U.S. history. Twenty-six people were arrested and accused of forcing dogs to fight to the death, then "routinely and inhumanely" killing animals that were unable to re-enter the fight ring.
"This bust shows how many dogs are victims of this blood sport in various parts of the country," adds VanKavage. "And it underscores the need for uniform state laws to humanely treat the victims."
Laws in 13 states (Colorado, Delaware, Florida, Louisiana, Massachusetts, Minnesota, New Jersey, North Carolina, Oklahoma, Rhode Island, South Carolina, South Dakota, and Wisconsin) either label the victims of dog fighting as dangerous dogs and/or require their euthanasia.
Best Friends has for the last 19 months been in the national spotlight for its care of nearly half the animals seized from Michael Vick's dog fighting operation. Considered the most challenging cases, these dogs would have been euthanized if Best Friends had not accepted them at their 3,700-acre sanctuary in southern Utah.
During that time, the dogs have made steady progress, with two of them in foster care, the first step toward adoption.
One of the most quoted animal welfare organizations on dog fighting, Best Friends launched "Pit Bulls: Saving America's Dog," a campaign to save the pit bull breed's reputation, which in recent years has been sullied by dog fighting. Best Friends' work with the Vick dogs has been chronicled on the weekly National Geographic Channel series, "DogTown."
"Laws that automatically doom animals to euthanasia without an evaluation need to be changed," VanKavage says. "Many states have humane laws that allow the dogs to be evaluated as individuals and we continue to work with legislators across the country to protect animals who are, through no fault of their own, forced to fight."
For more information on Best Friends' campaign to save pit bulls, contact:
John Polis
Best Friends Animal Society
435-644-2001 ext. 4858
http://www.bestfriends.org
# # #