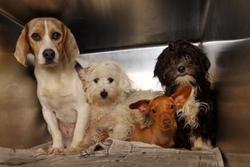 Every day 12,000 dogs and cats are killed in shelters across the country simply because there is no home for them
Kanab, UT (Vocus) November 23, 2009
If only rescued cats and dogs could send text messages.
Certainly they would be thumbing in their donations to Best Friends Animal Society, which in 25 years has helped tens of thousands of animals.
In order to expand its donor base to a more technology-conscious audience, Best Friends is moving to the forefront of charitable giving technology by announcing a mobile giving program with mGive.com that provides a much more direct, personal way to make a donation. You simply send a text message that donates $5 to Best Friends Animal Society.
People can get involved by texting the word PETS to the number 90999 to give $5. When prompted, replying with YES confirms the donation. Donations will be billed on their regular cell phone bill, making this a simple way to help save lives. The goal is to raise $50,000 with the new micro-donation program and obtain as many as 10,000 additions to the organization's mobile database.
"Every day 12,000 dogs and cats are killed in shelters across the country simply because there is no home for them," says Claudia Perrone, marketing manager. "By entering into mobile giving, we hope to raise awareness by communicating with more people in a relevant way. Text donating is an easy way to help support the life-saving work of Best Friends, and help us work toward a time when homeless pets are a thing of the past."
The program is designed to educate and engage individuals regarding Best Friends Animal Society by providing information on how Best Friends is sustaining its "No More Homeless Pets®" mission. Interested persons will be sent three text messages per month to keep the animal welfare conversation going, while a fourth will be a message that invites people to donate just $5.
Promotion of the program will be through a 15-second video spot in New York's Times Square that will reach approximately 90 million consumers during the month of December. There will also be a street promotion that includes chalk stencils in Times Square, along with a mobile-giving facebook application.
"By going mobile, Best Friends has an instant and convenient way to continue the conversation with our supporters, keep them up to date on breaking news, and provide them with easy ways to take action on behalf of homeless pets," Perrone said.
To listen to a podcast interview with Best Friends marketing manager Claudia Perrone, click here.
About Best Friends Animal Society:
Best Friends Animal Society, which celebrates its 25th anniversary in 2009, is a nonprofit, membership organization building no-kill programs and partnerships that will bring about a day when there are No More Homeless Pets®. The society's leading initiatives in animal care and community programs are coordinated from its Kanab, Utah, headquarters, the country's largest no-kill companion animal sanctuary in the United States. Best Friends' work is made possible by the support of a grassroots network of members and community partners across the nation.
For more information contact:
John Polis
Best Friends Animal Society
435-644-2001 ext. 4858
Barbara Williamson
Best Friends Animal Society
435-644-2001 ext. 4408
Temma Martin
Best Friends Animal Society
(801) 953-8876
# # #