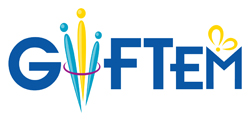 Giftem saved me on what to get my wife for Christmas! She created a profile and Giftem suggested a bracelet she might like. She loved the bracelet, and added it to her wish list. I logged in, viewed her wish list, and bought it. It was so easy!
New York, NY (PRWEB) January 18, 2012
Giftem LLC is excited to announce the launch of Giftem.com, an innovative social shopping network designed to remove the need to use 5+ websites to create and manage wish lists, receive reminders for friends' birthdays/other non-hallmark occasions, generate gift ideas, host events, create online registries, discover new items and trends, and find special deals from retailers.
Giftem's free service allows users to create profiles containing occasions they celebrate as well as general categories of interest, i.e., "Sports->Hockey" or "Jewelry->Bracelets". Users then form two-way connections (similar to Facebook) with friends, loved ones, colleagues, etc. Once the user creates a gift profile and connections are formed, users can:

View items suggested by Giftem that users may be interested in buying for themselves, based on the categories checked off in their profile
Create a wish list of specific items via the Giftem website or a free, browser-based tool called the "Want It!" button
Receive reminder emails for friends' and loved ones' upcoming birthdays, anniversaries, special occasions, dog's birthdays, etc.
View categories and wish lists of friends, family members, significant others, colleagues, etc., in order to give them great gifts
Create events and invite friends, and create registries for occasions, such as baby showers and weddings
View timely, popular items in which other users are expressing interest
Check special offers or deals offered by the hundreds of retailers in the Giftem network
The official beta launch date for Giftem is Wednesday, January 18, 2012. The site can be viewed at Giftem.com and the Facebook page can be viewed facebook.com/giftem. A gift giving blog as well as mobile apps for both Apple and Android will be available in the coming months.
About GIFTem
New York based Giftem LLC was founded in Summer 2011 by internet entrepreneurs Michael Rezba and Lindsay Cellars to provide users an all-inclusive website that makes gift giving and celebrating a more fun and stress-free experience. Michael developed the concept after forgetting his father's birthday (more than once). Giftem's mission is to make people's lives just a bit easier by managing all of their shopping and gift giving needs. For more information please visit http://www.giftem.com.
###