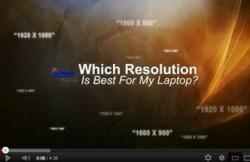 Having the right display or screen resolution for your laptop can greatly increase your viewing enjoyment. This helpful video shows you how to find the right resolution.
(PRWEB) September 18, 2012
"Which Resolution Is Right For My Laptop?" is the title of a new video which has just been released by Bizwaremagic's online Laptop Buyer's Guide. This informative video gives any potential laptop or computer buyer helpful tips on choosing the right screen or display resolution to meet their needs.
It answers some of the most common questions regarding screen resolutions. Which screen resolution should one use or buy? What are the most common resolutions found on computers in 2012? What is native resolution and why is it so important to check? What is DPI scaling? What is aspect ratio and how does it affect your viewing experience? What does Full HD 1080p mean and should one get it?
All important questions one should ask before buying a laptop or computer and knowing the answers will make that task much easier.
"When it comes to computer gaming and/or intensive video editing, having the proper display resolution," says Titus Hoskins who runs the Bizwaremagic site. "Can make a significant difference in how your system performs and will greatly increase your viewing enjoyment."
The video also goes beyond these helpful questions and actually shows the viewer how to find the screen resolution of the computer system one is using. It also shows how to use DPI scaling to get the best possible viewing experience on one's computer or laptop display. It also discusses the latest Retina Display screens found on many new Apple products.
If someone is buying a gaming laptop, then screen resolution will be very important because gamers usually want the best viewing experience possible and that can only be obtained with the right resolution. Many gamers also now expect the latest gaming systems to have a Full HD 1080p display or screen for maximum enjoyment. Regardless of the purpose, knowing the different display resolutions and how to use them properly, will greatly enhance one's enjoyment of any laptop or computer.
This special video on Display Resolutions, as well as other helpful videos on gaming laptops, can be found on our Bizwaremagic's Laptopguide YouTube Channel here: http://www.youtube.com/user/laptopguide or download our comprehensive free laptop buying guide here: http://www.laptopcomputerguide.org All products/companies mentioned above are registered trademarks of their respective owners and companies.