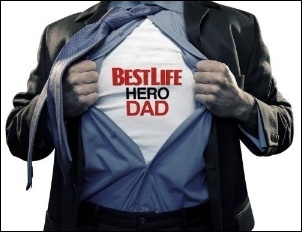 NEW YORK (PRWEB) April 30, 2007
He might be your best friend, or a long lost friend. He might be your daughter's soccer coach or your son's principal or the guy down the road who simply keeps an eye on the neighborhood. Whatever his name is, he touches people's lives at home and within his community. He overcomes obstacles and inspires other to do the same. He is a man of honor, an outstanding father, and a role model to others.
If you know someone like that - or if YOU are someone like that - then Best Life, MSN and The National Fatherhood Initiative want to hear from you. The editors of Best Life magazine and executives from the National Fatherhood Initiative will announce the winner on Father's Day, Sunday, June 17, 2007.
HOW TO ENTER:
To enter or to learn more, go to http://www.bestlifeonline.com/herodad, http://www.men.msn.com and /or http://www.fatherhood.org and tell us why you or someone you know should be honored this Father's Day. Multimedia submissions are encouraged and can range from video, photo essays, artistic interpretations, etc.
PRIZES:
Grand Prize:
-- The ultimate family adventure vacation for four at the exclusive Greenbrier resort in West Virginia-- http://www.greenbrier.com
-- Winner will be photographed and featured in the pages of Best Life magazine
-- Story and photos featured on National Fatherhood Initiative website (http://www.fatherhood.org) and MSN
Best Life is the fastest -growing men's magazine in the country and is the very first men's magazine to provide topical and compelling editorial that addresses family, marriage and fatherhood. With the tag line "What Matters to Men," Best Life targets the growing segment of 35+ accomplished and socially responsible men, offering them hands-on advice on finance, fatherhood, health, and relationships, as well as the latest cultural news, style trends, and product reviews.