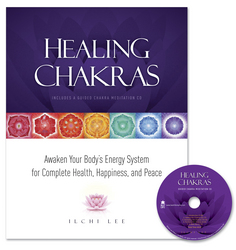 A chakra is like a hub in which the energies of the mind, body and spirit are intertwined and sent through the body's meridians for use in daily life
Sedona, AZ (PRWEB) November 12, 2009
Sedona-based publisher Best Life Media released a revised and expanded edition today of one of its most popular titles, 'Healing Chakras: Awaken Your Body's Energy System for Complete Health, Happiness and Peace,' by brain educator and philosopher Ilchi Lee. This full-color, beautifully illustrated book, which provides a unique and highly effective approach to chakra healing and development, includes a 45-minute guided meditation CD.
Based on Ilchi Lee's popular healing chakra training tour, attended by some 30,000 people worldwide, 'Healing Chakras' details the seven key energy centers of the body and their associated color, organs and physical, emotional, mental and spiritual attributes. Through easy exercises and guided meditations, readers learn how to experience their own ki (chi/qi) energy and how to clear, balance and strengthen individual chakras for natural health.
Many ancient traditions speak of a kind of life energy than runs through all living things. In Asian traditions, this energy is called chi, qi or ki. The whole system of Asian medicine, including acupuncture, is based on the intuitive understanding of how ki works in the body. According to this system, energy runs through a network of pathways called energy meridians.
Essentially, chakras are energy centers in the body. "A chakra is like a hub in which the energies of the mind, body and spirit are intertwined and sent through the body's meridians for use in daily life," writes Ilchi Lee. "When the seven chakras are in balance and functioning well, we live a life of physical, mental and spiritual health."
In simple language, the author shares the profound wisdom of Korea's 10,000-year-old Shin-sun-do philosophy, known as 'the way of the divine.' This philosophy is based on the ancient Korean scripture, the Chun Bu Kyung, or the Heavenly Code. This is the only book published in English that contains the 81-character Chun Bu Kyung with a line-by-line translation and subsequent interpretation.
But Ilchi Lee goes beyond illuminating ancient wisdom and relates chakras, the wheel-like energy organs of the body, to our modern understanding of the nervous system. He correlates the health of different chakras with different parts of the brain and different nervous system functions.
Lee contends that the brain is the ultimate mediator in the awakening process, because it is only through the brain that people can experience oneness, just as it is the brain that creates our illusions of separation. For more than 30 years, he has worked to develop training methods that help develop the brain's hidden abilities and sensitivities.
"One unique aspect of this chakra program is how it is connected to the human brain, which is ultimately the mediator of the health of the entire chakra system," writes Lee. "When a chakra changes, energy changes. When energy changes, personal transformation is achieved."
Availability:
'Healing Chakras' (ISBN: 978-1-935127-04-8) can be purchased online for $21.95 from BEST Life Media. Click here to preview a chapter of the book and listen to an audio sample from the meditation CD. Trade orders can be purchased online through SCB Distributors or call (800) 729-6423.
About the Author:
Ilchi Lee is a brain philosopher and educator dedicated to creating a healthier, happier and more peaceful existence for all humanity. He is founder of Dahn Yoga and Brain Education System Training (BEST), techniques designed to enhance human potential and quality of life through a variety of mind-body training methods. His self-development programs, used by thousands of people worldwide, are a unique blend of Eastern philosophical concepts and Western scientific understanding. Lee has authored 32 books on topics related to brain development, health and wellness, spirituality and personal growth.
About Best Life Media
BEST Life Media, produces books, CDs, DVDs, and other products that are educational and life enhancing. Brain Education System Training (BEST), which seeks to better the human condition through a variety of self-development techniques, serves as the underlying inspiration for many of their titles. For more information, call (877) 504-1106.
###