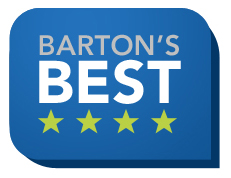 Boston, MA (PRWEB) October 02, 2012
Barton Associates is excited to announce the latest installment of its Barton's Best series, which highlights the healthcare industry's best web and mobile content. The newest edition of Barton's Best features the web's top physician-authored blogs.
Barton Associates, a leading locum tenens company, places talented physicians on great assignments across the United States. In addition to offering locum tenens jobs across dozens of specialties, Barton Associates is committed to providing resources (blog posts, articles, white papers, infographics, and more) that make locum tenens professionals' jobs easier. The Barton's Best series highlights other individuals and companies that share Barton Associates' passion for providing rich and engaging content to healthcare professionals.
According to a 2011 Pew Internet and American Life report, 80% of adult internet users have looked online for health information specific to a disease or treatment. Many physicians have recognized this fact and are contributing their expertise to inform curious patients as well as colleagues. The Barton Associates marketing team scoured the internet to find physician-authored blogs and selected the very best based on frequency of posts, engagement with readers, variety of resources, and depth of content.
Each of Barton's Best Physician Blogs provides compelling, fresh information that any medical professional should have bookmarked. They include KevinMD, Family Medicine Rocks, Howard J. Luks, MD, Seattle Mama Doc, Common Sense Family Doctor, Dr. Wes, Skeptical Scalpel, and Academic Life in Emergency Medicine.
Those interested in learning more about each of Barton's Best Physician Blogs can visit the Barton Associates Blog to read descriptions of each of the winners as well as comments from the authors.
To learn more about Barton Associates locum tenens staffing solutions, please visit http://www.bartonassociates.com.
Barton Associates is a leading national locum tenens staffing company serving physicians, nurse practitioners, hospitals, medical practices, and companies across the U.S. from national staffing offices in Massachusetts, Connecticut, and Florida.