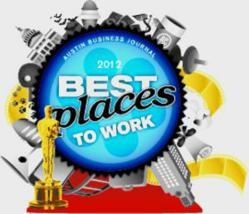 ...our company is everything you would want a perfect family to be; stable, fair, motivating, and supportive.
Austin, TX (PRWEB) June 14, 2012
Each year the competition for Best Places to work in Central Texas grows, this year there were over 300 companies nominated for this award. Seventy companies in the Central Texas region were selected for the Hollywood themed luncheon and awards presentation on June 6, 2012. For the third year in a row, the Austin Business Journal has recognized the Charfen Institute, a leading small business and real estate education company, as one of the "Best Places to Work in Central Texas."
According to The Austin Business Journal, "the businesses are chosen based on [a variety of mediums that include:] confidential surveys of their employees, who are asked questions about the company's culture, benefits, and work environment." Each company is ranked in their appropriate categories as small, medium, and large companies. During this year's award ceremony, the Charfen Institute placed 5th in the medium business category, which included companies between 51 and 250 employees.
"When my wife Cadey and I founded this company, it was our vision to create a stable and productive work environment that offered our employees limitless opportunity," said Alex Charfen, CEO of Charfen Institute. "People often ask me if I would describe my company as a family? I would say our company is everything you would want a perfect family to be; stable, fair, motivating, and supportive."
Since 2009, the Charfen Institute has grown from $500,000 to over $10 million in annual revenue and continues to add 85 jobs to the Austin economy.
In addition to being recognized among the "Best Places to Work in Central Texas" in 2010, 2011, and 2012. Charfen Institute and CEO Alex Charfen have been honored with additional accolades, including debuting at No. 2 on the Inc. 500 List of Fastest-Growing Private Education Companies in 2011, ranking No.1 in the "Less Than $10 million" category for The Fast 50 Awards in 2011, the 2011 Austin Under 40 Award for Real Estate, along with numerous Telly Awards, Omni Awards, and a 2010 Aegis Award.
About Charfen Institute
The Charfen Institute educates and trains real estate professionals and small business owners to find opportunities in chaos – either by providing solutions to the foreclosure crisis or empowering entrepreneurs with strategies to embrace their companies' full potential. The company produces more than 300 educational events each year through various divisions, including: the Certified Distressed Property Expert® (CDPE) Designation, the Certified Investor Agent Specialist® (CIAS) Designation, LEAD Experience™, and its annual Breakthrough Conference. The CDPE Designation is the fastest growing independent designation in real estate industry history, with more than 40,000 agents trained since 2008. In 2011, the Charfen Institute ranked No. 21 on the Inc. 500 List of America's Fastest-Growing Private Companies.
For more information: http://www.alexcharfen.com/