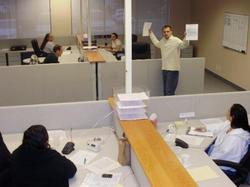 Las Vegas, NV (PRWEB) February 11, 2009
Best Rate Referrals is a leading provider of telemarketing mortgage leads, loan modification leads, and mortgage direct mail. Best Rate Referrals specializes in custom telemarketing campaigns for clients nationwide. After 5 years of continued business, Best Rate Referrals has created specific telemarketing techniques that increase lead conversion.
Due to the current increase in loan modifications and FHA leads, Best Rate Referrals is expanding to a second call center to handle the increased business. This new call center allows Best Rate Referrals to take on many new clients, whereas in the past, they had to turn away clients due to a full schedule.
Over the past year, Best Rate Referrals has developed a custom program to generate loan modification leads. Telemarketers call homeowners with high risk loans nationwide to inform them of a program especially for homeowners in their situation.
Along with telemarketing leads, Best Rate Referrals has developed many high preforming mortgage direct mail pieces. As the mortgage marketing slowly declines, many brokers stopped mailing. This has left the market wide open for new brokers to enter the mailer arena and increase their business through a new stream. Best Rate Referrals loan modification mailers and FHA mailers have been exceeding 5% response rates compared to a standard 1-2% response.
For additional information on Best Rate Referrals or their call center expansion visit their website or call 800-811-1402.
###