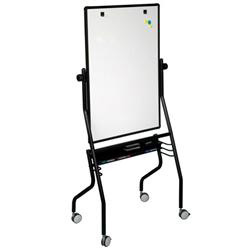 Mc Elhattan, PA (Vocus) March 6, 2010
Brodart Supplies & Furnishings kicks off the sale of their new Nester Reversible Boards, perfect for classrooms, conference rooms, and libraries.
Brodart prides itself on carrying the most functional products on the market to help its customers make the most of their budgets. With the Nester Reversible Boards, customers are getting both a magnetic dry erase board and a bulletin board, all in one compact package. The boards feature 3" casters, allowing customers to use them on the go. They also include an accessory tray for marker and push pin storage, as well as flip chart hooks, making this board ideal for focus groups. The unique shape of the board allows it to be nested away for space-saving storage.
To take a closer look at Brodart's Nester Reversible Boards.
About Brodart Co.
Since 1939, Schools and Libraries alike have turned to Brodart Supplies & Furnishings for everything to keep their libraries running smoothly. From book covers and book supports to kids wall murals, Brodart Supplies & Furnishings is a one stop shop for all your library supplies. From humble beginnings, Brodart has grown to become an international company, serving libraries from the Northwest Territories to the Pacific Rim, with facilities in the United States and Canada. Brodart truly has evolved into a full-service library supply company. For additional information about Brodart Supplies & Furnishings, please visit shopbrodart.com or brodart.ca for our Canadian users, or call 1.888.820.4377 in the United States or 1.800.265.8470 from Canada.
###