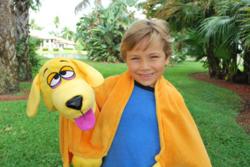 "CuddleUppets are the perfect triple-duty must-pack kid accessory," said Kim Orlando, founder of TravelingMom.com.
New York, New York (PRWEB) June 30, 2012
CuddleUppets are the ideal travel toy-- perfect for entertaining and comforting children in unfamiliar surroundings. CuddleUppets combine a cuddly blanket and a cute puppet. The soft plush head can be used as a travel pillow, and children can keep warm on chilly planes using the fuzzy blanket.
Jay@Play, the maker of CuddleUppets, is pleased to announce that the product has received a TravelingMom.com Approved Award. TravelingMom.com is a trusted source in travel and has been quoted or featured in GoodHouseKeeping.com, Forbes.com, The Wall Street Journal, NY Times Travel and named one of the top 4 family travel sites by Sherman Travel.
"CuddleUppets are the perfect triple-duty must-pack kid accessory," said Kim Orlando, founder of TravelingMom.com. "It's a triple play for kids: a puppet, a blanket and a friend. It's priced right, kids can use their imagination to play with it, I can wash it when they're done and, best of all, the kids don't mind carrying it themselves."
Jay@Play currently offers six CuddleUppet styles: pink poodle, blue elephant, purple monkey, yellow puppy, green crocodile, and brown bear. CuddleUppets are available for sale online at http://www.cuddleuppets.com.
CuddleUppets also earned the coveted Parent Tested Parent Approved (PTPA) Seal of Approval and was selected as one of Dr. Toy's Best Vacation Children's Products for 2012.
About Jay@Play:
MushABellies' new 3D Augmented-Reality Game, powered by Jay@Play's ToyTube Network™, blends the game world and the real world using smart phone devices and exclusive, patented AR software from developer Gravity Jack.
Jay@Play International was established in 2004 and is a Hong Kong-based company with a showroom in New York City. The company's products are distributed internationally through companies that promote all of their brands on television. Following the worldwide success of its best-selling original Plush MushABellies and Happy Nappers product lines, Jay@Play is now launching TV campaigns in the US for the New MushABellies Plush with 3D Augmented Reality Game and Cuddleuppets, Jay@Play International is a subsidiary of Jay Franco & Sons, the industry leader in the home-furnishing industry.