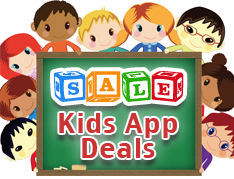 Fun Educational Apps and Digital Storytime put their heads together and developed dedicated sites to feature top quality apps deals, updated on a daily basis
Edinburgh (PRWEB UK) 6 September 2012
When looking for the best apps for kids you know where to go! The App Store or for detailed reviews you browse the internet for Kids App Review sites such as Fun Educational Apps. These sites all have one goal: to put the spotlight on only the best apps for kids for iPad, iPhone and iPod Touch. All sites review a large selection of apps but today the kid apps market is evolving rapidly and one site cannot cover them all. One stop to find great apps reviewed by various sites is AppStar Picks - a free universal iOS App on iTunes App Store - which offers you direct access to over 360 curated apps for kids (and lots more coming soon!) where six independent review sites - Fun Educational Apps, Digital Storytime, Teachers with Apps, Applicable2U, The iMum, Apps for homeschooling .... (And soon two additional app review site Melissa's Apps Reviews and ReviewForDev) - give you access to an extensive review database of outstanding apps.
Now after reading these great reviews you may go straight to the App Store and download or you may decide to put some of these apps on your AppStar Picks wish list and wait till they go on sale or even for free. Keeping track of top kids apps deals is time consuming and can be frustrating, especially when you just missed a great offer. Two reviewers from AppStar Picks AppStar Picks - Fun Educational Apps and Digital Storytime put their heads together and came up with the answer. They developed dedicated sites to feature daily kids apps deals, updated four times a day to make it easy for you to stay tuned and never miss a great deal again.
Fun Educational Apps is delighted to announce its brand new site: Kids App Sales an innovative way to help you stay in touch with the ever growing number of kid's apps deals.
The new dedicated site features daily promotions organised by categories on all the educational kids apps it has reviewed, top quality apps yet to be reviewed and those kids apps top rated on the iTunes App Store.
Digital Storytime has been following kids apps price drops for over a year now. It has a similar dedicated promotion site and offers an impressive selection of some of the best books and storybook apps for kids as well as some educational apps.
Apps have change the way kids learn and offer a great support for education so make sure you find the best ones! For details on the apps featured ... Download AppStar Picks for top recommendations and check out Fun Educational Apps and Digital Storytime Deals page for the latest offers!
About Fun Educational Apps:
Fun Educational Apps was established in 2010 as a review site to help parents, educators and teachers to discover great family apps. Together with kids, Fun Educational Apps tests a large selection of educational and game apps, including book apps, math apps, game apps, travel apps, fun apps and much more.