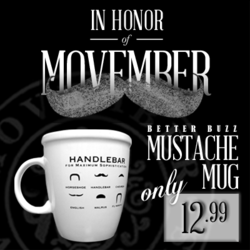 Proudly supporting prostate & testicular cancer initiatives.
San Diego, CA (PRWEB) November 13, 2012
Men across the globe marked the beginning of this month with a clean shave before spending the rest of it to groom, trim, and wax their way into the annals of fine mustachery. Supported by the women in their lives, "Mo Sistas," Movember Mo Bros raise funds by seeking out sponsorship for their Mo-growing efforts.
"Mo Bros effectively become walking, talking billboards for the 30 days of November. Through their actions and words they raise awareness by prompting private and public conversation around the often ignored issue of men's health", stated the sons of the foundation.
In 2011, over 854,000 'Mo Bros' and 'Mo Sistas' around the world were able to raise $126.3 million USD for men's health, benefiting the likes of the Prostate Cancer Foundation, Live-strong, and more.
San Diego's best coffee shop, Better Buzz Coffee, is declaring its Mo Pride, pledging to donate $2 for every one of their Mustache Mugs sold this month. These mustaches allow their customer to indulge their support for mens health in addition to a delicious cup of locally roasted coffee.
But what most people don't know is just how much they are fighting prostate cancer with every sip of Better Buzz's gourmet coffee.
In 2011, the Harvard University Gazette reported on a study that, "Men who regularly drink coffee appear to have a lower risk of developing a lethal form of prostate cancer," whether decaf or regular. With prostate cancer being the most frequently diagnosed form of cancer and the second leading cause of cancer death among U.S. men, you can imagine how exhilarating this news became. It affects one in six men during their lifetime and more than 16 million men worldwide are prostate cancer survivors.
There has never been more reason to grow out that beautiful upper lip topiary and treat yourself -and men's health- to a hot cup of coffee in a classy mustache mug, from Better Buzz Coffee.
The infamous mustache mug can be seen and purchased in store or online at the coffee shop's website.