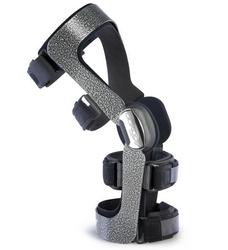 San Diego, CA (PRWEB) July 26, 2010
BetterBraces.com, the sports bracing and therapy experts, have named the DonJoy Armor Knee Brace with FourcePoint Hinge the best knee brace to relieve knee pain for football players.
This is the strongest brace you can get without a prescription. What makes the DonJoy Armor with FourcePoint Hinge knee brace ideal for football players is it's ability to protect against ACL tears and hyperextension due to the Four-Points-of-Leverage System and the FourcePoint Hinge Technology. Both features work together to help prevent injuries and relieve knee pain.
It is this preventative technology that makes DonJoy Armor sports knee braces so popular with football players.
"Collegiate athletes recognize the importance of staying injury free. After all one bad injury can take them out for the season, as well as ruin their chances of a professional career," explained Jason Zinn, president of BetterBraces.com. "That is why the Armor is the best football knee brace. It's just another tool they can add to their arsenal to help keep them in the game."
In addition to recommending the DonJoy Armor with FourcePoint hinge knee brace, BetterBraces.com has an entire section of their website devoted to products that will help protect football players from injuries and relieve knee pain - http://www.betterbraces.com/football.
BetterBraces.com is the official source for braces, supports, and therapy products from the industry's leading brands – DonJoy, Aircast, Compex, ProCare, Saunders, and Chattanooga.
###