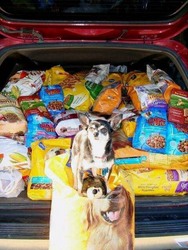 With or without the downturn in the economy, every community has a homeless pet problem
Lanham, MD (Vocus) October 6, 2009
Just how much is 77,242 pounds of pet food? Weightwise, it's the kibble equivalent of the space shuttle's external fuel tank, a semi truck, or the biggest stone in the world's largest man-made waterfall in Alabama.
For the past three months, Best Friends Animal Society volunteers across the country have been working their tails off to gather tons and tons of bags and cans of pet food to help families who are struggling financially to continue feeding their furry friends.
Volunteers from Seattle, Washington, to Orlando, Florida, spent the summer organizing and executing community food drives to bring in donations of bags and cans of unopened and unexpired pet food. In most cities the collected food was turned over to food pantries for distribution to families.
Although the official Best Friends' Four Legged Food Drive is completed for this year, volunteers seeking to organize a food drive to help pets and people in their community can download a Best Friends Animal Society action kit here:
http://network.bestfriends.org/campaigns/foreverhome/media/p/141287.aspx
For most people, pets are part of the family, and when money is tight, a free bag of food might make the difference between keeping the pet and turning it in to an already overcrowded shelter. People struggling to make ends meet have been quoted as saying they feed their pets before they feed themselves. The Four Legged Food Drive makes it so fewer people have to make that choice.
Interestingly, the states hit the hardest by the recession have in some cases donated the most food. Nevada, Arizona and Florida, ravaged by the economic downturn, brought in three of the top four largest food totals out of the 15 participating locations. Only Salt Lake City, Utah, brought in more.
Ellen Gilmore, campaign specialist for Best Friends' national First Home Forever Home campaign, explains the urgency of the food drive:
"With or without the downturn in the economy, every community has a homeless pet problem," she says. "In the past year however, the number of homeless pets because of abandonment and relinquishment to animal shelters has increased due to the economy, foreclosures and unemployment. Our goal was to collect as much pet food as possible to stock local food pantries so local families can keep the pets they love."
Best Friends Animal Society's First Home Forever Home campaign focuses on all aspects of helping people make and honor a lifetime commitment to their pets. Millions of companion animals die every year in crowded shelters because their families decided to let them go for some reason. Through education, intervention and action, First Home Forever Home provides guidance and resources to help people care for their pets and keep them as loved members of their families.
About Best Friends Animal Society:
Best Friends Animal Society is a nonprofit, membership organization building no-kill programs and partnerships that will bring about a day when there are No More Homeless Pets. The society's leading initiatives in animal care and community programs are coordinated from its Kanab, Utah, headquarters, the country's largest no-kill sanctuary. This work is made possible by the support of a grassroots network of members and community partners across the nation. In 2009, Best Friends celebrates its 25th anniversary.
For more information contact:
Temma Martin
Best Friends Animal Society
801-953-8876
Barbara Williamson
Best Friends Animal Society
Office: 435-644-2001 ext. 4408
Cell: 435-689-0200
###