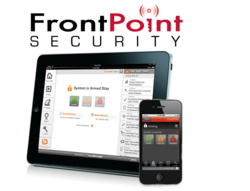 ...FrontPoint Security has the best product for anyone looking for a technically advanced and totally reliable home security system...
Chicago, IL (PRWEB) December 01, 2012
One of the leading reviewers of security systems, HomeSecuritySytems HQ, has selected FrontPoint Security as the "best" home security company of the century.
HomeSecuritySystems HQ goes a step further in praise by stating that FrontPoint Security has the best product for anyone looking for a technically advanced and totally reliable home security system. FrontPoint Security received such recognition because of the way it stands out in the following areas:
CUSTOMER SERVICE
FrontPoint Security is an industry leader. In 2010, the company was the recipient of Angie's List Super Service Award in acknowledgement of exceptional customer service. FrontPoint's customer support department is a team of highly skilled professionals who seek to resolve any and all problems quickly and efficiently.
ONLINE REVIEWS
FrontPoint is the only home security company to get a full 5-star rating from Yelp, one of the most stringent customer review sites online. FrontPoint customers are extremely pleased with the products they get and the service they receive. This overall satisfaction from the people served is the primary reason that FrontPoint has an 'A' grade with the BBB (Better Business Bureau).
CELLULAR MONITORING & WIRELESS EQUIPMENT
A combination of superior cellular monitoring from Alarm.com and advanced wireless equipment from GE Security are what customers can expect as part of the overall package. Monitoring security of homes can easily be done from cellular and smartphones and owners can activate or deactivate their security system, receive text alerts and watch live videos of the property from miles away.
30 DAY TRIAL
All customers are provided a 30-day money back guarantee on whatever is purchased. FrontPoint Security's low return figures prove this offered service is available but rarely used.
FREE ENVIRONMENTA L MONITORING
There is a professional environmental monitoring service provided by FrontPoint Security to watch for fire, smoke, carbon monoxide, or flooding. This service is offered to the customer at no cost.
SHIPPING BY FEDEX
Products are shipped free of charge on the same day they are ordered. Expedited service is also offered.
SMASH & CRASH TECHNOLOGY
The Smash & Crash technology that is a part of the Simon XT GE Security control panel used by FrontPoint will issue an immediate alarm to law enforcement agencies and monitoring stations should an attempt be made to damage the control panel during a burglary. No other company in the industry utilizes Smash & Crash.
CONTACT
Interested parties or individuals can get an instant quote right here. FrontPoint's customer support responds within seconds, literally. They can also be called direct at (866) 363 2035.