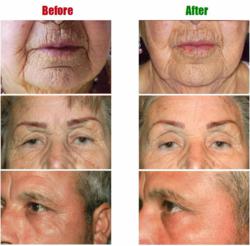 We've actually sold more Facelift Without Surgery Masks to men in the first 10 weeks of 2012 than we sold to men in all of 2011
Lutz, FL (PRWEB) March 16, 2012
When Liberty Health Network, LLC (LHN) announced the bold guarantee of Looking 5 Years Younger or Your Money Back, company executives were not initially certain of the financial ramifications. But with sales of the Beau Visage Facelift Without Surgery Home Facial Mask exploding, LHN is sure they are on the right path.
"I knew the product was phenomenal" Says Chief Operating Officer Russell Bly. "What I did not know was how well the product would be received in direct marketing. Now that we are selling direct, we've seen a huge increase of sales to men.. We've actually sold more Facelift Without Surgery Masks to men in the first 10 weeks of 2012 than we sold to men in all of 2011" Bly said.
"Our direct-sales channels have really been moving products" Said Tracy Grevert, Chief Financial Officer. "We've seen revenues explode and costs drop in the sales channels such as Amazon.Com. We're moving product, increasing brand awareness, opening up new streams of customers with a product that flat-out performs. Customers are retuning in record numbers and requests to distribute the product are through the roof." Says Grevert.
For years, adventurers searched for a Fountain of Youth that would lead to both youth and unprecedented financial opportunity. While LHN did not find the Fountain of Youth, they may just have the "Tube of Youth" in the Beau Visage Nonsurgical Facelift Mask Facial At Home System.
About Liberty Health Network, LLC
Liberty Health Network is one of the nation's leading Direct and Internet Marketing companies with a state-of-the-art Global Distribution facility in Tampa Bay, Fl. For 12 Years, the Liberty Health Network name has been synonymous with high quality Mortechem-Free Nutritional Supplements, Anti Aging Skin Care, and Internet Web Applications. The statements made on this website have not been evaluated by the Food & Drug Administration. These products are not intended to diagnose, prevent, treat, or cure any disease.
###
Businesses or Individuals interested in distributing Liberty Products or requiring more information on this topic should contact Chief Operating Officer Russell Bly at (813) 774-8191 or e-mail at office(at)libertyhealthbiz(dot)com.