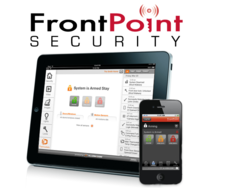 ...the only home security company to receive an 'A' grade for exceptional customer service from the Better Business Bureau...
Chicago, IL (PRWEB) November 17, 2012
According to HomeSecuritySystems HQ, a national leading home security reviewer, the best home security systems company is FrontPoint Security, standing well above the competitors (ADT, Protect America) in the industry.
FrontPoint consistently gets the best reviews in the industry. They are the only home security company with a full five star rating on Yelp.com and are also the only home security company to receive an 'A' grade for exceptional customer service from the Better Business Bureau and so meeting the highest standards of customer service in the marketplace. FrontPoint also receives excellent customer feedback from many third party platforms across the Internet.
FrontPoint offers the most advanced security systems available. All of their monitoring plans are totally cellular and included as part of every security package that they offer. This means that customers are not required to pay extra for cellular monitoring. Cellular monitoring offers the convenience of remote arming and disarming through smart phone support, such as Blackberry, iPhone and Android. It also provides for instant text alerts and updates.
FrontPoint goes even further than this by providing a full thirty day money back guarantee to its customers. There is not another home security company that provides a similar guarantee. Every customer gets thirty days to evaluate their new home security system and determine if they want to keep it. If they don't want it, they can simply return it for a full refund, no questions asked.
In addition to a thirty day trial and excellent customer service, FrontPoint also offers environmental monitoring, such as protection from flooding, carbon monoxide, fire and smoke.
FrontPoint's get quote option enables customers to be instantly hooked up with customer service representatives, usually within ten to fifteen seconds of submitting a request. When the order has been completed, the customer new home security system is shipped the same day through FedEx. Shipping is free, although customers also have the option of expedited next day arrival for an additional charge.
The home security systems that customer receive are the most advanced in the industry. FrontPoint uses completely wireless equipment from GE Security, including the advanced GE Simon XT control panel. This control panel is in continuous wireless communication with all other components, including window and door sensors and motion detectors. The control panel is available with even the most basic plan.
The GE Simon XT control panel also offers the exclusive Smash & Crash technology that immediately sends an alarm to the monitoring station if the control panel is tampered with in any way. This adds another layer of security by preventing burglars from defeating the security system by damaging the control panel.
You can obtain an instant quote from FrontPoint right here. You can also learn about FrontPoint packages and services here. If you like, you can contact FrontPoint directly at (866) 363-2035.