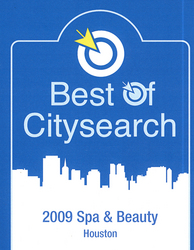 We are honored that Citysearch and the people of Houston voted The Upper Hand Houston's Best Hair Salon. We are proud to be part of such a great community and are fortunate to work with an extremely talented team
Houston, TX (PRWEB) March 1, 2010
Best of Citysearch is an annual nationwide competition, based on millions of votes, that lets local businesses compete for awards — and win the ultimate honor of being named best in their city! Various campaigns run throughout the year, including Best Restaurants, Best Nightlife and Best Spa & Beauty. Citysearch also has award categories for shopping, hotels and other local services. In addition to being named Houston's Best Hair Salon, The Upper Hand salons also won first place awards for Hair Color, Highlights, Haircut, Blowout, Hair Extensions, Hair Straightening and Nail Salon. In total, The Upper Hand Salons came in first place in eight categories in the annual Citysearch Best of Houston awards.
"We are honored that Citysearch and the people of Houston voted The Upper Hand Houston's Best Hair Salon. We are proud to be part of such a great community and are fortunate to work with an extremely talented team. Our goal for 2010 is to continue to provide award winning service and to help make our community an even better place to live," said Rachel Gower, President of The Upper Hand.
About The Upper Hand LLC
The Upper Hand operates two full service hair salons in Houston, Texas and carries the Kerastase, Shu Uemura, Jan Marini and Jane Iredale product lines. Founded in 1996, by Rachel Gower and her husband Brian Williard, The Upper Hand currently has two Houston hair salon locations and has been featured on Great Day Houston, Mirror Mirror and in the Houston Chronicle. In addition to traditional hair salon services, The Upper Hand also offers hair extensions and hair straightening. When not working, Ms. Gower likes to devote time to improving the community by actively volunteering with Communities In Schools Houston, a leading drop out prevention organization.
###