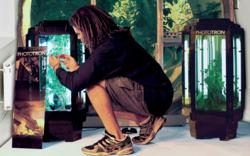 Indoor gardening is a healthy hobby, and the rewards can be significant for those who invest in the right hydroponic system. But an investment in the wrong equipment can turn people off to indoor growing.
Los Angeles, CA (PRWEB) February 28, 2012
Phototron Holdings, Inc. (OTCBB: PHOT) (OTCQB: PHOT), the Los Angeles hydroponic grow box company behind the "grow your own" revolution, recommends aspiring indoor farmers consider five important factors before purchasing a hydroponic system to ensure a good experience, quality vegetation and a nice return on investment.
"Indoor gardening is a healthy hobby, and the rewards can be significant for those who invest in the right hydroponic system," said Craig Ellins, Phototron's CEO. "But an investment in the wrong equipment can turn people off to indoor growing."
Phototron says there are five key factors involved in picking the right indoor growing system:
#1 Space Requirements
Hydroponic systems are often huge setups that can take up an entire room. The smaller setups are typically a 4' X 4' tray, which requires 16 square feet of floor space, and also requires auxiliary components that take up additional space, such as a water reservoir, coolers and lighting.
For the non-commercial indoor grower, Phototron recommends purchasing a smaller, self-contained unit. A Phototron 21" width grow box uses less than a square foot of floor space, so it can be located almost anywhere—including a kitchen countertop.
#2 Energy Efficiency
Electricity costs can run high with some hydroponic systems. Because the standard 1,000 watt bulb traditionally used in many hydroponic systems generates the full spectrum of light, it costs several hundred dollars each month to operate and may require special 220 electrical wiring. And after the first year, the light output begins to degrade, so it costs more to operate in subsequent years to attain the same performance as the first. These bulbs also generate a lot of heat and often require air conditioning system to avoid burning and wilting, which further increases energy costs.
Phototron recommends systems that take advantage of energy-saving LED technology. Phototron's vertical light emitting diode (LED) system, which produces only the red and blue spectrums that the plants need to grow, cost on average only 20 cents per day to operate. Requiring only standard 110 voltage, Phototron's LED systems generate very little heat and last for up to five years with no degradation in performance after the first year. Phototron's reflective panels also increase efficiency by increasing lumens without having to turn up the power.
#3 Automation
Many indoor hydroponic efforts fail due to overfeeding and poor temperature control. In most systems, the grower must invest in and religiously use special electronic devices to monitor humidity, temperature, water level. Lighting timers must also be used to turn the system's lights on and off. The gardener then makes manual adjustments to the environments to ensure proper operation.
Phototron believes smart systems make the indoor growing experience less cumbersome and more rewarding. Phototron's patent-pending Eco-Brain (seen here: http://youtu.be/a5L71sYmtr0) does all of these things automatically. This "set it and forget it" system not only monitors the crops and optimizes plant growth, it teaches indoor gardeners how to grow indoors with onscreen alerts and a red alarm light.
#4 Price and Set-Up Costs
Many systems can cost an indoor grower thousands of dollars, and then they need onsite help setting up the system and performing maintenance during operation. Professional services can cost $100 per hour or more.
A pre-built, self-contained system offers great value, according to Phototron. Not only do Phototrons start at just a few hundred dollars, they are sold pre-assembled and ready to operate. There are no set-up hassles like special plumbing, wiring, or air conditioning—no assembly required, period. Simply plug it in and grow!
#5 Return on Investment (ROI)
A good hydroponic system should produce vegetation all year round, so there are no seasonal fluctuations in prices like at grocery stores. The system should also last for many years, which helps recoup upfront costs over time.
Phototron suggests purchasing a system that is proven to last. Phototrons are built to last for decades. In fact, many indoor growers continue to order nutrients and other supplies for Phototrons they purchased more than two decades ago. The new Phototron PRO-SERIES makes growing like a pro EASY!
For more information about indoor growing, or to purchase or inquire about carrying Phototron products, call (800) 651-2837 or go to http://www.phototron.com.
About Phototron Holdings, Inc.
Phototron Holdings, Inc. (OTCBB: PHOT) (OTCQB: PHOT) designs and manufactures cutting-edge indoor mini-greenhouses capable of year-round growth of herbs, vegetables, flowers, fruits and medicines, better, stronger and faster than traditional farming methods.
The Phototron Hydroponic Indoor Grow System, commonly called grow boxes, is built upon decades of research on the optimal temperature, light, water and nutrient needs of plants. The Phototron System uses proprietary lighting that mimics the sun's rays to grow nutrient-rich, pesticide-free, eco-friendly crops faster and in more bountiful quantities than those of traditional gardening methods, resulting in fruits and vegetables of superior taste and quality.
Phototron systems and accessories are available for purchase from the Company's website. Phototron supports the sale and use of its products to the home medical marijuana market where compliant with applicable laws. Phototron also supplies a full range of parts, accessories and advanced nutrients to more than 50,000 customers.
For comprehensive investor relations material, including fact sheets, presentations, conference calls and video, please follow go to http://www.phototron.com.
Forward-Looking Statements
Except for historical information contained herein, the statements in this release are forward-looking and made pursuant to the safe harbor provisions of the Private Securities Litigation Reform Act of 1995. Forward-looking statements are inherently unreliable and actual results may differ materially.
Examples of forward-looking statements in this news release include statements regarding new growth initiatives and accelerated growth, successfully monetizing MLM business model, marketing and distribution plans, development activities and anticipated operating results.
Factors which could cause actual results to differ materially from these forward-looking statements include such factors as the Company's ability to accomplish its business initiatives, significant fluctuations in marketing expenses and ability to achieve and expand significant levels of revenues, or recognize net income, from the sale of its products and services, as well as the introduction of competing products, or management's ability to attract and maintain qualified personnel necessary for the development and commercialization of its planned products, and other information that may be detailed from time to time in the Company's filings with the United States Securities and Exchange Commission. The Company undertakes no obligation to publicly update or revise any forward-looking statements, whether as a result of new information, future events or otherwise.
###