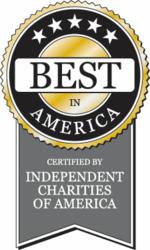 The purpose of the ICA "Best In America" Seal of Approval is to help potential contributors easily identify the top charities in the country
St. Louis, MO (PRWEB) May 08, 2012
Children's Hope International Foundation was honored with the Best in America Seal of Approval by the Independent Charities of America (ICA). An independent annual review shows that the St. Louis based, Children's Hope International Foundation, meets the highest standards of public accountability, program effectiveness, and cost effectiveness.
As a non-profit 501(c) 3 charity, Children's Hope delivers help to international orphans through slum school education, sustainable nutrition, safe drinking water, and orphan medical care; impacting the lives of thousands of orphans and children living in poverty in China, Ethiopia, Colombia, Vietnam, and India. Last year, over 46,000 people benefited from Children's Hope International Foundation's development aid projects.
The Best in America Seal standards qualify Children's Hope for inclusion in the 2012 Combined Federal Campaign (CFC). Of the 1 million charities in the United States today, the ICA estimates that fewer than 5 percent, meet or exceed these Best in America standards, and, of those, fewer than 2,000 have been awarded this Seal.
This is the 20th year of Children's Hope fulfilling the mission of bringing Homes, Health, and Hope to children in need around the world.