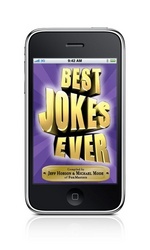 Las Vegas, Nev. (PRWEB) December 7, 2009
The holidays are a time for the typical company parties and family gatherings. This year, thanks to two comedy magicians from Detroit, these celebrations will be filled with much more laughter.
Jeff Hobson and Michael Mode, long-time friends and professional entertainers, have teamed up with award-winning software developer Finger Food Studios of Vancouver, Canada, to produce the first-ever iPhone App that supplies you with more than 1,500 of the world's most hilarious jokes combined with a tricked-out, user-friendly interface.
The Best Jokes Ever App is unlike anything else available for the iPhone and iPod touch. With a searchable database, customizable interface, filtered content, random joke shaker and hysterical sound effects, the Best Jokes Ever App is a true comedy club in your pocket.
Moreover, it allows anyone to immediately be funny, regardless of whether or not you think you can tell a joke. On a recent flight, the App was shown to a flight attendant, who promptly took the iPhone and began telling jokes to the other passengers – she became an instant comedian!
"There was nothing available to the public that made us laugh, so we decided to put our best collections together in what, we believe, are the best jokes in the world", says Hobson. Mode adds, "Not a joke-teller? We've even included years of comedy experience in our Joke Tips section to help anybody get laughs like the pros."
The Best Jokes Ever App does provide users with some rather unique features. As mentioned, the App offers professional Joke Tips - real advice from professional comedians. You will also find the App is loaded with all types of jokes, from clean humor to some decidedly adult content. If you're worried about the kids reading certain jokes, simply use the built-in password protection feature for the mature content and your worries are solved.
Just a few days after its approval from Apple, The Best Jokes Ever App had already been downloaded in more than 24 countries around the world, becoming a hit in remote areas such as Zimbabwe. Of course, part of its success is because the App requires only a one-time fee of $1.99, with no membership fees and no subscription costs. You'll get more than 1,500 of the best yuks for less than two bucks!
To find out more about the Best Jokes Ever App and how it can liven up your life with the world's funniest jokes right on your iPhone or iPod touch, visit the iTunes App Store.
About FunMasters: FunMasters is made up of Jeff Hobson and Michael Mode, two world-renowned comedy entertainers. Hobson is a Las Vegas headliner who also has performed for most of the world's Fortune 500 companies. Michael Mode is a corporate speaker and entertainer who combines magic, humor and creativity. Michael has also toured with David Copperfield as part of David's creative group, Magic Lab.
Apple, the Apple logo, iPod, iPod touch, the App Store and iTunes are trademarks of Apple Inc., registered in the U.S. and other countries. iPhone is a trademark of Apple Inc. App Store is a service mark of Apple Inc.
###