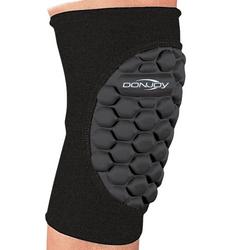 San Diego, CA (PRWEB) June 18, 2010
BetterBraces.com, the sports bracing and therapy experts, have named the DonJoy Spider pads as the best knee pad support for volleyball players.
Volleyball players' knees receive a lot of impact on hard gymnasium floors. This can lead to numerous injuries and, unfortunately, cause players to spend the season on the bench recovering from an injury. To reduce the chances of an injury during volleyball, players should try wearing a knee protection like the DonJoy Spider knee pads for volleyball, according to Jason Zinn, president of BetterBraces.com
The DonJoy Spider Knee Pad support is made from a high impact resistant foam that provides added protection for players. The honeycomb design protects and cushions the knees, while providing the support needed to avoid injuries and relieve knee pain.
"Typically knee pads are bulky and uncomfortable. We consider this the best knee pad support for volleyball players because it's low-profile and streamlined, which doesn't impede movement. It provides players protection without negatively impacting their performance," stated Zinn.
In addition to recommending the DonJoy Spider knee pad for volleyball players to prevent and relieve knee pain, BetterBraces.com has an entire section of its website devoted to products that will help protect volleyball players from other injuries - http://www.betterbraces.com/volleyball.
BetterBraces.com is the official source for braces, supports, and therapy products from the industry's leading brands – DonJoy, Aircast, Compex, ProCare, Saunders, and Chattanooga.
# # #