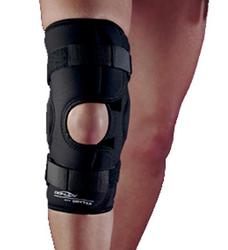 San Diego, California (PRWEB) June 2, 2010
BetterBraces.com, the sports bracing and therapy experts, have named the DonJoy drytex hinged knee brace as the best knee support for golfers that offers knee pain relief.
Walking around the golf course all day places golfers knees in danger. Between the impact of footfalls and a golfers stance, knee support to help prevent hyper-extensions is very important. To reduce the chances of knee injury during golf a golfer should consider wearing a knee brace, according to Jason Zinn, president of BetterBraces.com.
The DonJoy drytex hinged knee brace is extremely lightweight and provides excellent knee stability. What makes this brace perfect for golfers is it will not interfere with your swing in any way. It is comfortable to wear, making it the ideal knee brace to wear for long days on the golf course.
"Golfers knees are at risk. The DonJoy drytex hinged knee brace is a great combination of support and comfort, which works great for them," stated Zinn.
In addition to recommending the DonJoy drytex hinged knee brace to prevent and alleviate knee pain for golfers, BetterBraces.com has an entire section of its website devoted to products that will help protect golfers from other injuries - http://www.betterbraces.com/golf.
BetterBraces.com is the official source for braces, supports, and therapy products from the industry's leading brands to help with knee pain relief– DonJoy, Aircast, Compex, ProCare, Saunders, and Chattanooga.
###