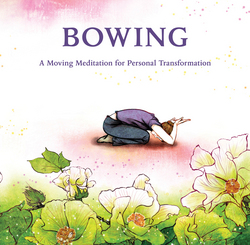 Bowing is a practice that will impart to you the humility, discipline, and acceptance you need to really see the beauty of life
Sedona, AZ (PRWEB) July 29, 2010
Bowing is the most beautiful of human activities, representing all of life in its most poetic form. It is also a great form of exercise. The simple, repetitive motion uses every major joint and muscle in your body, pumps your heart, and makes you sweat. Now, you can explore the sacred art of bowing with a new book by Dahn Yoga Education entitled, Bowing: A Moving Meditation for Personal Transformation, released by Sedona-based publisher BEST Life Media today.
Used by Asian cultures for centuries, bowing strengthens your body, mind and spirit. Like other forms of meditation, bowing helps you develop discipline and a focused, centered mind. However, it is more grounding than traditional sitting meditation, because it also requires flowing movement and physical strength. This movement gets the body's energy flowing and naturally brings up joy and gratitude.
Bowing: A Moving Meditation for Personal Transformation brings this ancient meditative practice into modern times with step-by-step instructions and illustrations. This inspiring guide will help you understand the art of bowing and how practicing it can have a profound impact on your life. You'll learn how to build strength, cultivate humility, and embrace oneness through the simple act of bowing. After only a few weeks of practice, you'll enjoy greater vitality, more peace, and an uplifted spirit.
"Bowing is a practice that will impart to you the humility, discipline, and acceptance you need to really see the beauty of life," writes Dahn Yoga founder Ilchi Lee in the book's foreword. "Through its symbolic representation of the greater meaning of life's cyclical process, bowing will give you the faith and hope that you need to keep going forward."
While many people may associate bowing with worship or some sort of superstition, in reality, it is a very natural act arising in almost every culture around the world. All of the world's major religions use some form of bowing, during prayer or other devotional activities. As a part of everyday life, it is especially associated with Eastern cultures, where people commonly bow to one another as a mutual sign of respect. Even in the West, people bow when receiving applause at the end of a performance.
According to Dahn Yoga Education, bowing as a body-mind-spirit development technique is different in that the practitioner is not bowing to some outside person or deity. Used in this manner, bowing is about the cultivation of self. "Ultimately, bowing is about developing internal and external grace. It exists only for your own self-reflection and self-reverence," writes the book's author. "Each bow is nothing but a conversation with your own true nature."
Whether you are looking for an integrated body-mind-spirit workout or a deep, spiritual growth discipline, this book is all that you need to start bowing today.
Availability:
Bowing: A Moving Meditation for Personal Transformation (ISBN 9781935127444/$17.95 Retail) can be purchased online at http://www.bestlifemedia.com or by calling 1-877-504-1106. It is also available through Amazon.com. Trade orders can be purchased online through SCB Distributors, or call 1-800-729-6423.
About the Author:
Dahn Yoga Education is a collective of holistic health professionals dedicated to the creation of health, happiness, and peace on the individual and global levels. These contributors work together to develop educational materials based primarily on Dahn Yoga principles and practices. Dahn Yoga is a unique integrative body mind training practice taught in 1000 centers in 10 countries around the world. To learn more about a Dahn Yoga center in your area, visit http://www.dahnyoga.com .
About BEST Life Media:
BEST Life Media produces energy healing and yoga books, yoga DVDs, relaxation music CDs, and other products that promote healthy body-mind-spirit living. Brain Education System Training (BEST), which seeks to improve the human condition through a variety of self-development techniques, serves as the underlying inspiration for many of our titles. Visit http://www.bestlifemedia.com to browse our affirmation cards, chakra meditation guide, chakra healing wall art, and personal journals. Whether you are well on your path, or just starting out, BEST Life Media has the tools to assist your spiritual growth. For more information, call 1-877-504-1106.
# # #