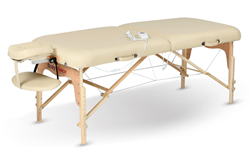 Signature portable massage table for extra comfort and relaxation
Chicago, IL (PRWEB) October 13, 2014
BestMassage.com is the best place to find high quality massage products and massage tables at the best prices. BestMassage.com's massage warehouse is now stocked with a new innovative portable massage table, the Thermo BodyChoice. The Thermo BodyChoice has the built in option to add the therapeutic benefits of heat to any session with the touch of a button. No more freezing massage tables!
"With the approaching cooler weather, we can't think of a better time to offer our customers a portable massage table with a warming option" says Peter Wang, Marketing Director of BestMassage.com. "The Thermo BodyChoice has all of our signature portable massage table functions like the Double Lock Leg Adjusters, shiatsu cable release and Auto Lock Leg and Frame System with the enhanced capability to easily integrate warmth for extra comfort and relaxation, and a deeper, more effective massage."
The Thermo BodyChoice comes with an ergonomic adjustable headrest and memory foam ergonomic face pillow, deluxe carrying case and hanging arm shelf.
"It's a beautiful portable massage table that is designed with all of our best features and includes our 10 year guarantee" adds Wang. "Your clients will be delighted at the extra comfort. You will be delighted at the quality and price."
The Thermo BodyChoice can be found at BestMassage.com in the "Portable Massage Tables" massage product category.
About BestMassage.com
BestMassage.com is proud to be a BBB (Better Business Bureau) accredited organization with a BBB Rating of A+. Having over 14 years of experience and knowledge behind us, we are committed to offering massage therapists and those who care about health and well-being a complete line of high-quality massage tables and supplies at the best prices possible with exceptional, friendly service, and fast shipment. Detailed information on the company can be obtained by visiting http://www.bestmassage.com/