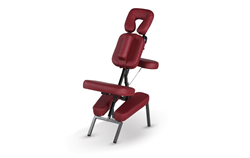 "Luxuriously padded massage chair for client comfort and easy portability"
Chicago, IL (PRWEB) October 22, 2014
Fresh in stock at the BestMassage.com massage warehouse: the innovative Cozy BodyChoice Massage Chair. Practitioners who are interested in upgrading their mobile massage practice should look no further! BestMassage.com, everyone's favorite international massage table and supplies warehouse, is happy to announce the release of its state-of-the-art Cozy BodyChoice Massage Chair.
Deceptively lightweight, the Cozy BodyChoice Massage Chair is outfitted with the largest and thickest massage chair cushions on the market. Crafted from aircraft aluminum and exclusive Small Cell™ Foam and Memory Foam padding, mobile massage therapists don't have to sacrifice client comfort for easy portability. The Cozy BodyChoice Massage Chair is the best of both worlds; it's a luxuriously padded massage chair that's also simple to transport.
"The Cozy BodyChoice is equipped with all of our signature portable massage chair functions and complimentary massage chair accessories," says Peter Wang, Marketing Director of BestMassage.com. "It's really the next step for mobile massage practitioners who are ready to upgrade."
Free massage accessories included with the Cozy BodyChoice Massage Chair are an ergonomic headrest and face pillow, armrest, sternum bolster, standard carrying case and session pouch.
"Our goal is to grow with our customers and offer massage products to practitioners at every level. The Eco BodyChoice Massage Chair is a great option for students, beginners and those with a limited budget. The Cozy BodyChoice is there for them when they've grown their business and are ready to invest more with an enhanced version," adds Wang.
The Cozy BodyChoice Massage Chair can be found at BestMassage.com in the "Massage Chairs and Stools" massage product category.
About BestMassage.com
BestMassage.com is proud to be a BBB (Better Business Bureau) accredited organization with a BBB Rating of A+. Having over 14 years of experience and knowledge behind us, we are committed to offering massage therapists and those who care about health and well-being a complete line of high-quality massage tables and supplies at the best prices possible with exceptional, friendly service, and fast shipment. Detailed information on the company can be obtained by visiting http://www.bestmassage.com/