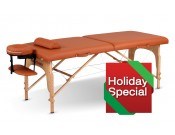 Holiday Special Eco-Basic massage table package for only $109
Chicago, IL (PRWEB) December 17, 2013
The holiday shopping season is an exciting one, and the deals that BestMassage.com is offering are sure to keep that excitement level high. Between new holiday package deals, a new Holiday Special Eco-Basic massage table package, and holiday clearance items, there are so many good deals springing up on BestMassage.com. Customers are sure to be delighted!
Peter Wang, Director of Marketing at BestMassage, is quite happy with the package deals that have been put together.
"People are always looking for deals, especially this time of year. To have this number of different specials, including a large variety of different massage products, means that everyone will find something that's just what they're looking for," said Wang.
The first item to highlight in the list of specials is the Holiday Special Eco-Basic massage table package for only $109. This package includes our best-selling Eco-Basic massage table, plus a 14" half-round bolster in the soft and warm Terra Cotta color. This item is only available while supplies last, and at this price it won't be around for long.
The next great deal is our Sensual Massage DVD and Massage Oil Packages, perfect for a romantic time together at home.
Other package deals include our new Holiday Special Tool Set, including the Caterpillar Mini, Relax Hammer and Palm Urchin for only $9.90. Or, the Massage and Bath Salt package is a great way to get a variety of aromas for your bath and massage salt needs.
Some items on Holiday Clearance include the posture-supporting Ergo Stool for just $49, as well as the glass measuring instruments which can help in mixing your own combinations of oils with our wide selection of essential oils. Other specials include our Thai Saa Paper Wood Lamps for only $8.90 each and Oval Oil-Resistant Table Covers at only $14.90. Which of these specials is right for that person on your list?
Wang is confident that these holiday specials provide something for everyone in the massage world.
"We all know that the spirit of the holiday is that of giving. By picking up some of these great deals, you are able to enjoy that spirit, whether it's giving a gift to someone you care about, or maybe just giving yourself just what you've been wanting. Have a happy holiday!" said Wang.