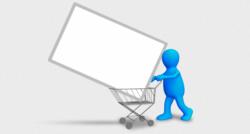 Tempe, AZ (PRWEB) February 09, 2013
People rely on the internet to provide information and entertainment as well as shopping for everyday items, yet some remain reluctant to make major purchases, like mattresses, online. As this may be due to a lack of understanding and information about the retail process and its advantages, blog BestMattress-Reviews.org sought to take a deeper look at buying a latex mattress on the internet and how it compare to showrooms.
The recent blog post released by Best Mattress Reviews titled "Buying a Latex Mattress Online vs. In-Stores" dispels consumers' concerns about buying a bed via the web. While shoppers may not have the opportunity to test the bed for a few minutes as in a typical showroom, research cited by the article shows that consumers report a higher level of satisfaction with beds they have purchased online than in brick and mortar stores. It also addresses the benefits of convenience, better prices, and longer in-home sleep trials and warranty coverage. These major advantages provide consumer protection and value unparalleled by most local showrooms.
The article responds to consumers concerns over selection, as most showrooms are not able to provide more than a handful of different beds to choose from. Online shoppers are able to comparison shop between numerous manufacturers, particularly when buying a latex mattress, which is generally difficult to find locally. The article then dispels the concept that synthetic latex is equal to natural in terms of comfort, satisfaction and longevity.
Perhaps most importantly, this blog addresses the differences in composition and bonding between different types of latex mattresses. Whether glues, flame retardants, petrochemicals or organic materials are used in the manufacturing process may have an impact on health and allergy concerns.
Information presented in the article from a study of consumer latex reviews by BestMattress-Brand.org differentiates between all-latex and blended beds in regard to consumer satisfaction with comfort, relief of back pain and other important aspects.
Another chart allows consumers to make brand-by-brand comparison of popular internet retailers based on features they deem crucial, such as type of bed, cover, trials, warranties, and more. It neatly lays out which brands contain glues and chemicals, what type latex and covers they use, and entry level pricing. The analysis of the presented information highlights Astrabeds 100% natural Talalay latex mattress collection as the best value among compared retailers
The article by Best Mattress Reviews ultimately explains how the ability to research and extensively comparison shop in a stress-free environment before purchasing equate to major advantages for consumers. When shopping online, particularly for latex beds, buyers are likely to getter a better deal and better quality, which equate to higher satisfaction. For those researching a purchase, the blog also offers several other resources including reviews, guides and brand comparisons.
BestMattress-Reviews.org is a blog dedicated to providing mattress and sleep product information. On the blog, independent industry professionals provide expert opinions and recommendations backed by research and customer reviews. The website aims to make the buying and research process a little simpler by collecting and analyzing information in a digestible, enjoyable format.