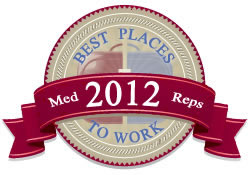 The employees that work for [Medtronic] have nothing but positive things to say. Most of the employees I've talked with stay for a long time and remain loyal.
Alpharetta, GA (PRWEB) December 13, 2012
Over 1,600 healthcare sales professionals from the MedReps community voted, and Medtronic is officially the Best Place to Work in Healthcare Sales. Last year's winner, Johnson & Johnson, was a close second, with Stryker coming in third. These companies embody what today's healthcare sales job seekers are looking for in an employer: A strong company that values its employees.
The top three winners were chosen from a list of Fortune 500 companies in the medical/pharmaceutical sectors. Voters also had the chance to write in the company they'd most like to work for, and considering more than half of all respondents said they would prefer to work for a medium-sized company, it's not surprising that many of them did. This year's list of winners and honorable mentions features companies large and small, representing a variety of product specialties – much like the MedReps community itself.
A solid product offering, strong financials, and comprehensive benefit plans were just some of the reasons the top companies are attractive to the MedReps community. When asked to explain why Medtronic deserved the top award, one happy employee cited the following reasons: "Strong product line, good compensation, brand loyalty, and uncommonly favorable employee benefits." Medtronic employees are spreading the word about their employer, as one job seeker explained, "The employees that work for the organization have nothing but positive things to say. Most of the employees I have talked with stay for a long time and remain loyal."
Read the full 2nd Annual Best Places to Work in Healthcare Sales report on MedReps.com.
MedReps.com is owned and operated by Healthcare Staffing Technologies. As the leading job site in its niche, MedReps.com gives members access to the most sought after medical sales jobs and pharmaceutical sales jobs on the web. Members have access to more than 10,000 jobs and can apply directly to the recruiters and hiring managers who post them. For more information on the #1 site for healthcare sales, marketing, and management careers please visit MedReps.com.