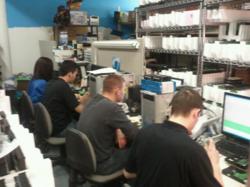 PC Warehouse have helped recover more than 1000 data storage devices; over 350TB of capacity; Estimated 35 Million USD Economic Loss. With successful rate of over 95% and 100% customer satisfaction.
(PRWEB) December 20, 2012
On October 22nd, a tropical wave developed off the coast of the Caribbean Sea. As it neared Kingston, Jamaica the wave quickly turned into a storm and became the devastating, Category 2 Hurricane Sandy that wreaked havoc throughout the east coast of US.
During just these few days, an estimated total of US$65 billion was lost in properties and assets, as well as the lives of 253 people.
Much more intangible were the losses of the relatives, friends and the priceless memories of photo records. With the arrival of the digital era, such important data are now always stored in digital media and many of them succumbed to the floods and rain that followed the hurricane.
Some families lost all their entire records of family photos, recipes — Instrumental and sentimental links to their existence.
Home offices that stood in the path of the hurricane were destroyed, encompassing the accounting and computer records within those offices.
For the lucky few, who knew the existence of the data recovery company, PC Warehouse Data Recovery Center, located in the town of Freehold, New Jersey, lost photos of timeless memories, and accounting records were all able to be recovered.
Yes, despite being drowned in water, data on your hard drive IS STILL RECOVERABLE as long as the following steps were taken to secure its retention.

Do not power up a wet drive. Power will cause a short circuit and may create sparking inside the drive, resulting in damage to the platter, where all the important data are kept.
If the drive is soaked in water, replace it with clean water and let it remain SOAKED AT ALL TIMES until you send it to PC Warehouse where the data recovery expert will know how to handle your drive.
Do not dry a water damaged drive. Drying out a wet or soaked drive will allow dirt to stick to the platter and it will be more difficult to clean the platter
Keep the labels intact as important details of the drive are stated on them. This will greatly assists in the sourcing of replacement parts.
Find a trustworthy data recovery service as fast as possible and have them examine your drive soon. Delays may cause deterioration in your drive, especially if rust starts to set in ruining your data
Most important, do not attempt to open the drive yourself as a slight nick or scratch on the platter can means permanent farewell to your data.
From now until the end of the year, PC Warehouse will offer a rebate of US$200 for every successful recovery of your hard disk.
Contribution PC Warehouse made so far:
More than 1000 data storage device have been recovered
Almost 350TB have been recovered
Estimated 35M Economic Loss have been retrieved
Testimonial
"We are a real estate company suffering considerable loss during the sandy storm, our office got flooded, so were the computers in it, but the most critical things are our customer contacts, our financial records, which are priceless, of course. Thanks to PC Warehouse helping us retrieve all of our data." said Michael Hoover.
To visit PC Warehouse's website, Click Here.
PC Warehouse is a partner of SalvationDATA(a worldwide leading data recovery equipment manufacturer)