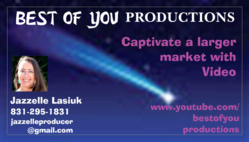 "Jazzelle has been a pleasure to work with. She is flexible, patient and does great work. I get what I want in the turnover time needed for my webinars and projects. I highly recommend working with her." - Alexandra Navarro, Workplace-Life Balance Trainer
Santa Cruz, California (PRWEB) December 19, 2012
Best of You Productions helps businesses and entrepreneurs, documentarians and artists captivate a larger market with video. Examples of this custom video production service can be seen at http://blip.tv/jazzelle-lasiuk.
As a dedicated video and music producer, Jazzelle Lasiuk delivers sound and video for exceptional listening and viewing pleasure. Whether editing, capturing video, or multi media implementation, Jazzelle Laisuk pays full attention to the detail of her clients' vision.
With this new custom video production service, Jazzelle Lasiuk collaborates with her clients to capture fresh footage to inform, connect, entertain and inspire.
About Best of You Productions
Jazzelle Lasiuk, CEO of Best of You Productions, has over five years experience as a producer at CTV, Community Television of Santa Cruz County and has received four WAVE awards from the Alliance for Community Media-Western Region. In 2008, her film "True Accounts of the Light Brown Apple Moth Aerial Spraying" was seen by thousands and was a powerful tool that helped stop the toxic spray over the Monterey Bay of California.
With over two hundred videos produced, Jazzelle Lasiuk has had her work featured in the Santa Cruz International Film Festival. For more information about Best of You Production services visit:
http://www.Jazz-elle.com/videoservices. A new website is under construction integrating all aspects of Best of You Productions.
For free consultation call
831-295-1831
jazzelleproducer(at)gmail(dot)com