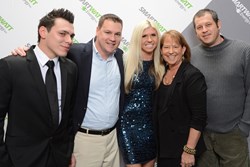 (PRWEB) January 31, 2013
SmartWatt Energy's nationwide staff recently gathered in Saratoga Springs, NY for the company's annual Team Conference. SmartWatt Energy provides turnkey energy-efficiency solutions for commercial, industrial, government and utility customers. The Team Conference is a chance for staff to network with colleagues, celebrate the past year's successes, meet with vendors and receive training.
In 2012, SmartWatt Energy was ranked the #4 engineering company at Inc. magazine's inaugural Hire Power Awards, the "Fastest Growing Company" of 2012 in the Capital Region of New York by the Albany Business Review, the fifth fastest growing engineering company on Inc.'s 5000 list and the 51st fastest growing New York company on Inc.'s 5000 list. SmartWatt Energy continued its strong growth projectile with an additional 11% growth in 2012.
The Team Conference was held at the historic Gideon Putnam Resort and Spa in Saratoga Springs, NY. Staff from all divisions arrived from SmartWatt Energy's 11 nationwide offices for the event, which was sponsored by Albeo, GE Lighting, Precision-Paragon, Daintree Networks and Philips. After the training and vendor presentations, staff enjoyed a motivational speech and autograph session with Olympic Gold and Bronze Medalist Rulon Gardner, who encouraged hard work and perseverance in their pursuit of success. The Team Conference ended with an evening of dinner and dancing for staff and their guests.
SmartWatt Energy, founded in 2002 in New York's Tech Valley, has grown 397% in the past three years, while adding 109 new jobs. The company was founded by Amsterdam, NY native Chris Covell, who currently serves as President and CEO. SmartWatt Energy currently has multiple project management, engineering, software development, lighting foreman and lighting technician job openings in New York, Pennsylvania, Ohio, Texas, California, Tennessee and Indiana. The company expects significant growth in 2013 nationwide.
ABOUT SMARTWATT ENERGY, INC.
SmartWatt Energy, Inc., is a leading nationwide provider of turnkey energy-efficiency solutions. SmartWatt Energy is dedicated to lowering businesses' operational costs through energy-reduction strategies. SmartWatt Energy provides whole building energy assessments and implements lighting retrofits, VFD upgrades, control system enhancements, ECM upgrades, and more to help commercial, industrial, government and utility customers meet their sustainability goals. SmartWatt Energy's energy-efficiency services include construction-grade energy audits, value-engineered designs, self-performed installations, utility incentive procurement, facilitation of EPAct 2005 tax deductions and maintenance support. For more information, visit http://www.smartwattinc.com.