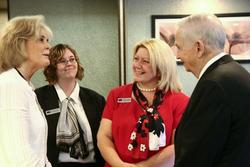 Top 20 Best Places to Work in Hampton Roads
Chesapeake, VA (PRWEB) July 29, 2008
LTD Management Company, LLC has been honored as one of the Best Places to Work in Hampton Roads by Inside Business, The Hampton Roads Business Journal. The July 14, 2008 edition of Inside Business lists the "Top 20 Best Places to Work in Hampton Roads" and each company selected was recognized at a luncheon in their honor. LTD is the only hospitality company on the list.
This annual distinction is reserved for companies who invest in their employees by providing a positive work environment for success. A panel of independent judges awards points in four different categories: culture/personality, family-friendly environment, compensation/benefits and employee development. LTD employs over 450 hotel associates from Chesapeake to Williamsburg and over 1,200 employees including corporate staff and hotels beyond Hampton Roads.
"In 1983 we built a company based on the core values of taking care of our associates who, in turn, take care of our hotel guests. It's a pleasure to be recognized among the finest companies in Hampton Roads to work for," stated Dilip Desai, Sr., Managing Partner and one of the Founders of LTD. One of the unique features LTD offers to associates and the community is their active and award-winning Community Affairs department.
About LTD Management Company, L.L.C.
LTD Management Company, L.L.C., is an award-winning hotel development and management group headquartered in Chesapeake, VA. Since its inception in 1983, LTD has developed a reputation for creating an atmosphere "where distinction reigns." The company currently operates 21 properties with 12 more hotels in the development pipeline and scheduled to open within the next two years. In 2007, LTD received both the Spirit to Serve and Partnership Circle award from Marriott Resorts. LTD was also named in Hotel Business' Top 100 Management Companies list in 2008. With the highest possible standards in mind, LTD prides itself with developing quality hotels under the franchise brands of Starwood, Marriott, Hilton and InterContinental. For more information, please visit http://www.ltdmanagement.com.
###