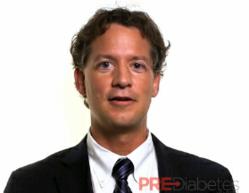 I'm honored and humbled to be named a Top Doctor.
Austin, Texas (PRWEB) February 01, 2013
PreDiabetes Centers congratulates prediabetes physician Dr. Alan Hopkins for being named a Top Doctor by Austin Monthly in the magazine's annual round-up of best doctors. The award recognizes doctors who have distinguished themselves in the past year by providing top-notch, highly rated care to patients.
"I'm honored and humbled to be named a Top Doctor," said Dr. Hopkins. "I will use this as motivation to continue to improve and enhance care for my patients."
Dr. Hopkins has more than 15 years of experience as a physician in medical facilities around Austin. As Medical Director at PreDiabetes Centers, he manages care for patients in an intensive, 12-month program that reverses prediabetes, a condition that occurs when blood sugar levels are high but not yet high enough for a diabetes diagnosis.
Austin Monthly compiled its prestigious list of Top Doctors using an algorithm that rates doctors on a 10-point scale, taking into account peer endorsements, credentials, experience, training, research, publishing and awards. The ratings are continually refreshed based on information submitted by doctors and certifying, licensing and disciplinary boards. The algorithm was created by Avvo, a ratings company based in Seattle.
Published last month, the list of Top Doctors features 431 physicians in 59 medical specialties, including family medicine, pediatrics, allergy and immunology, geriatrics, and more.
Dr. Hopkins has been a part of the PreDiabetes Centers team since the company's launch in 2012. He enjoys directing care in a program that allows him dedicated, one-on-one time with clients.
"It's wonderful being able to see such remarkable improvements in a patient's health," said Dr. Hopkins. "Being free of diabetes and living in optimal health–it's an achievement that will last a lifetime."
Dr. Hopkins uses his knowledge of advanced biomarkers, nutraceutical support, exercise physiology and nutrition when designing a customized clinical program for each client. Additionally, the program focuses on hormone optimization, vascular function, stress modulation, and metabolic processes in the body related to prediabetes and its complications.
Dr. Hopkins earned a Doctor of Medicine and completed his residency at Loma Linda University Medical Center. He graduated in the top 5% of his medical school class and won awards for his contributions to cancer research during his training. He has been a physician in Austin since 1999, serving as a Clinical Professor at University Medical Center at Brackenridge Hospital and Dell Children's Hospital. He has taught and instructed physicians internationally and has volunteered in overseas hospitals and clinics.
More than 79 million Americans have prediabetes, a condition that increases risk for type 2 diabetes, heart disease and stroke. About 11% of people with prediabetes go on to develop type 2 diabetes within three years. According to the Centers for Disease Control and Prevention, as many as 1 in 3 adults could have diabetes by 2050.
PreDiabetes Centers is a private company based in Austin, Texas, that specializes in the prevention and treatment of diabetes. Treatment at the Center is customized for each client and is based on physician-directed care and lifestyle intervention. The company offers a free biomarker blood test that can detect prediabetes, and also continuing biomarker tests throughout the personalized program to ensure that metabolic processes in the body related to prediabetes are being reversed.