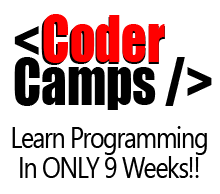 Now that they are financing camp, it's an easy choice
Pearland, TX (PRWEB) May 22, 2013
Coder Camps has raised private funding to allow students to finance most of the costs of their programming bootcamp. Right now, since experienced programmers are in high demand and colleges are producing lackluster results for employers, many people are turning to boot-camp style apprenticeships like Coder Camps to learn programming quickly. The problem that some people are facing is that these camps can be unaffordable - until now.
"Finding money to come to camp was by far the largest hurdle people were facing. We want to remove as many roadblocks for our students as we can, so that everyone has the opportunity to learn programming and quickly change their lives. That's why we decided the time was right to offer financing options." - David Graham, Coder Camps Founder
Students are now able to finance up to 90% of their total tuition over 48 months. With a monthly payment that is much less than most car notes, a student can jump into a new programming job and easily double their income after just 9 weeks of intense work at camp.
"Coder Camps is an opportunity like nothing else I've seen. They are offering a stable future in an industry that touches every part of our lives. Now that they are financing camp, it's an easy choice." - Lacey Mulkey, Coder Camps Student
The market has never been better for new developers to find work and get started on their new careers. Coder Camps has the right formula for getting students started on that path as quickly as possible.