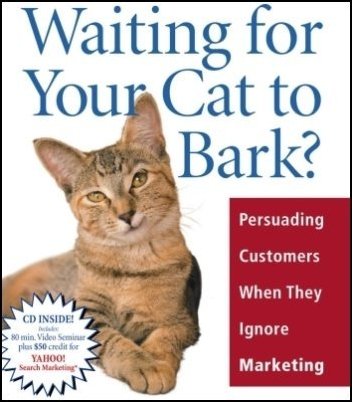 The Eisenbergs have developed a proven methodology for selling in this new environment where the old marketing rules no longer apply. This book will change how you think about marketing. It may even change how you think
New York, NY (PRWEB) July 11, 2006
"Waiting for Your Cat to Bark? Persuading Customers When They Ignore Marketing," the new book by Persuasion Architecture™ creators Bryan and Jeffrey Eisenberg, has emerged on several best sellers lists. It is currently number 2 on the Wall Street Journal Business list, number 4 on USA Today Money Best Sellers and number 13 on the New York Times Hardcover Business Best Sellers.
"Selling the book and making all these best sellers lists is exciting, but the really exciting thing for us is to see folks read and use the advice and examples in the book," says Bryan Eisenberg.
"Waiting for Your Cat to Bark" evolves from the premise that customers behave more like cats than Pavlov's dogs. They don't salivate upon demand or buy because they're bombarded by ad campaigns. Customers have become much more selective. The Eisenbergs have developed a new marketing methodology, Persuasion Architecture™, where businesses redefine how they communicate with customers by leveraging the power of increasingly interconnected media channels. "Waiting for Your Cat to Bark" provides a framework for preparing businesses to manage and respond to customers' demands.
"The Eisenbergs have developed a proven methodology for selling in this new environment where the old marketing rules no longer apply. This book will change how you think about marketing. It may even change how you think," said Rebecca Lieb, Executive Editor, The ClickZ Network.
"Finally, someone has offered direction for how to market in this new era where the customer is in control," explained David J. Reibstein, William Stewart Woodside Professor, Wharton Business School of the University of Pennsylvania and former Executive Director, Marketing Science Institute.
Click on this link to download a few chapters of Bryan and Jeffrey Eisenberg's new book "Waiting for Your Cat to Bark" or visit Barnes & Noble, Amazon or Booksamillion to order a hardback copy.
About the Authors and Future Now, Inc.:
Future Now, Inc., founded by Bryan and Jeffrey Eisenberg, is a New York City based consulting firm focused on helping clients understand their visitors in order to convert website traffic into leads, customers and sales. Their team of experts in interactive media, human behavior, online strategy, business development, communications and technology have decades of combined experience. With their Persuasion Architecture™ methodology and proven conversion rate optimization services, they help their clients define and surpass their goals. The Eisenbergs' previous book, "Call to Action," an overview of the principles and tactics of conversion rate marketing, was also a bestseller.
Media Contact:
Michael Drew
512-858-0040
# # #