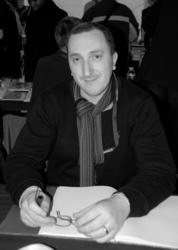 This is a really fun book, full of action, humor and likable characters
New York, New York (PRWEB) January 24, 2013
Digital-first publisher Le French Book will launch its thriller collection with bestselling The Bleiberg Project by French author David Khara, adapted into English by blockbuster movie translator Simon John. This prize-winning spy novel, the first in a series, was an instant success in France. Think a dash of Robin Cook, a splash of John Grisham, and pinch of Clive Cussler with a very distinctive voice all it's own.
1942, Poland. The head of the SS meets secretly with a scientist in charge of a major Third Reich project. Present day. After another late night with yet another woman whose name he doesn't remember, self-pitying golden boy Jay Novacek learns that his long-lost father has died, precipitating events that lead him to board a plane to Zurich. He's got a Nazi medallion in his pocket, a hot CIA bodyguard next to him, and a clearly dangerous Mossad agent on his tail. What was his father investigating? Why was his mother assassinated? Why are unknown sides fighting over him with automatic weapons? Far from his posh apartment, he races to save the world from a horrific conspiracy straight out of the darkest hours of history. Can it be stopped?
"This is a really fun book, full of action, humor and likable characters," says Anne Trager, who founded Le French Book. "This bestselling French author has real talent, and it's no surprise this book is being made into a movie."
"I got the idea for The Bleiberg Project from reading about World War II and its consequences on the world toady, and by watching testimonials from the period," says the author David Khara. "I wanted to tell these stories in an entertaining, wild, frenzied even, book."
The author
French author David Khara studied law, worked as a reporter for Agence France Press, was a top-level athlete, and ran his own business for a number of years. Now, he is a full-time writer. Khara wrote his first novel—a vampire thriller—in 2010, before starting his thriller series. The first in the series, The Bleiberg Project, became an immediate bestseller in France, catapulting Khara into the ranks of the country's top thriller writers.
The translator
Simon John was born in the United Kingdom. After graduating from Cambridge University, he stage-managed and produced theatre for two years. A quest for wine, women and goat cheese led him to Paris, where he began working in film production and translation. While his focus has been on translating and subtitling movies, such as Michael Haneke's Palme d'Or-winner Love and blockbusters Taken 1 & 2, Simon has also translated for Yasmina Réza, the art magazine L'Officiel Art and gardening manuals. After twenty fertile years and 3,713 goat cheese salads in Paris, he is now based in Berlin.
The Bleiberg Project, by David Khara; translated by Simon John
Published by Le French Book
ISBN: 978-0-9853206-9-0 (Kindle)/ 978-1-939474-99-5 (epub)
First published in French (Le Projet Bleiberg, Editions Critic, Paris)
Direct-to-digital translation; ebook exclusive
Release date: April 30, 2013
Media opportunities: Author available for interviews.
Full media kit available here: http://www.lefrenchbook.com/press-room/media-kit-the-bleiberg-project/
About Le French Book
Le French Book (http://www.lefrenchbook.com) is a digital-first publisher specialized in great reads from France. It was founded in December 2011 because, as founder Anne Trager says, "There is a very vibrant, creative culture in France, and the recent explosion in e-reader ownership provides a perfect medium to introduce readers to some of these fantastic French authors."
©2012 Le French Book, Inc. All rights reserved. Information is subject to change without notice.